MCRO at GO Outdoors in Erdington, 8th December 2012
After our visit to GO Outdoors Erdington in August, Midlands Cave Rescue Organisation returned in early December to chat to Christmas shoppers. Brief report >>
Call-out to Help Search for April Jones, October 2012
Please see the official Mountain Rescue England and Wales(MREW) statement.
Shropshire 2012 Rescue Practice
On Sunday 16th September we held our annual Shropshire rescue practice. This was a joint surface practice with Shropshire Fire and Rescue Service, plus a review of Crag rescue kit and practices. See the report on the 2012 practice >>
MCRO GO Outdoors in Erdington, 4th August 2012
Following on from our successful day in April at GO Outdoors Coventry, we were invited to promote awareness of mountain and cave rescue at the recently opened GO Outdoors Erdington. Brief report >>
MCRO member, Rick Stanton, awarded a Bronze Medal from the Royal Humane Society, August 2012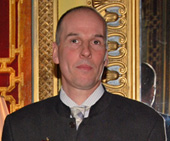 Congratulations to Rick who was awarded this medal "For having, between 3 and 14 October 2010, at very great personal risk, courageously assisted in attempting to save the life of a man who had been diving alone in the extreme conditions of the flooded passage of Dragonniere de Gard, Ardeche Gorge, Vallon-Pont-dArc, France, where it is thought, a collapse of gravel and silt had blocked his return to the surface."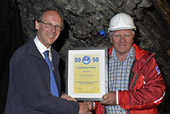 MCRO Diamond Jubilee Medal Presentation and Long Service Award, 25th July 2012
MCRO members received their Diamond Jubilee Medals in Dudley Limestone Mines, thanks to the assistance of Dudley Canal Trust. Read the report >>
MCRO Member & BCRC Legal Advisor receives Diamond Jubilee Medal from Senior Retired Judge, 13th June 2012
Tony Rich, a member of Midlands CRO, was issued with his Queens Diamond Jubilee by Sir Stephen Brown GBE. Report >>
Mendip CRO Assisted, 9th June 2012
MCRO member assists Mendip CRO with training presentation and rescue support. More >>
Fund Raising at Coventry Go Outdoors 14th April
Six team members went to the Coventry Go Outdoors store on the 14th April to raise awareness of Mountain and Cave Rescue and to help 'run' the climbing wall for the day. Read a brief report >>
GCRG Rescue Practice, Forest of Dean, 4th March 2012
Despite torrential rain and even some hail, seven members of MCRO attended Gloucester Cave Rescue Group's surface training exercise at Noxon Park in the Forest of Dean. More details >>
Assistance provided at OFD, 4th February 2012
Members of MCRO were able to provide assistance to SMWCRT on Saturday 4th February at OFD. More details >>
Visit to new DCRO HQ, 15th January 2012
On Sunday 15th January, three committee members of MCRO visited Derbyshire CRO at their new HQ in Buxton. Read more >>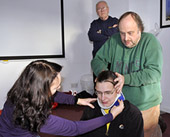 MCRO Training Day, 8th January 2012
Thirty-five cave rescuers, cavers and mine explorers, descended upon Total Access (UK) Limited's classrooms and training centre facilities once again on Sunday 8th January 2012 for a day of presentations, classroom and practical training. Read the full report on the Training Day >>
View reports of 2011 events (including the major Snailbeach rescue) >>