Wrekin Crag Practice, 10th October 2015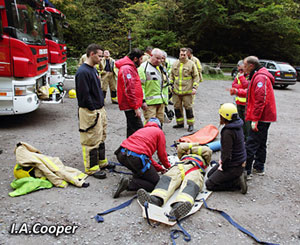 In October we joined the Shropshire Fire and Rescue Service at Ercall Quarry - at the foot of the Wrekin by the site of the former Forest Glen Tea Rooms for a Crag Rescue exercise.
More pictures and details on the report page >>

Shropshire Fire Service Open Day, 8th August 2015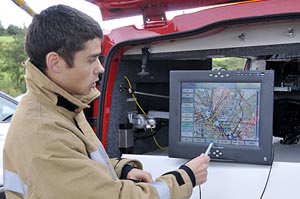 It was all "Action" at the SFRS Open Day at Telford Fire Station, Stafford Park among the highlights of the day was the chip pan fires, a rescue from smoke filled building, cutting a casualty out of a car (it turned out to be the mayor!), plus MCRO team members demonstrating various cave rescue techniques on the 100ft. high drill tower!! (It was a beautiful sunny day, so we couldn't pretend it was a cave!!).
You can find more details about the event on the Shropshire Fire & Rescue Service website.

Steve Tomalin Auction Day, 4th July 2015
Dozens of Cavers attended the Gloucestershire Cave Rescue Group depot to remember Steve Tomalin. It was a fantastic sunny day, with plenty of activities in the morning, including caving, cycling, canoeing and walking. In the afternoon, Steve's outdoor equipment was auctioned, with the very kind assistance of a professional auctioneer, who gave up his afternoon for us and it certainly helped to get the bids up. Proceeds from the aution will be split between GCRG and MCRO. The evening saw a BBQ and beer, two of Steve's favourite things. It was a day that Steve would have been so proud of, and thanks to everyone who made the effort to attend, or bid by proxy.
BCRC Conference, 12th to 14th June 2015
The 2015 Conference was jointly hosted by MCRO and GCRG in the Forest of Dean. The Saturday saw the 150+ delegates taking part in a number of workshops and practical sessions, followed by an excellent underground evening party in Clearwell Caves! On the Sunday a rescue practice and training session was held in Old Ham mine - this involved rescue team members from around the country plus some from overseas teams!
South & Mid Wales Rescue Practice, 16th May 2015
SMWCRT held their biennial Mid-Wales 'mine' rescue practice at Cwmystwyth mine, Ceredigion in May. This event is a multi-team affair, with representatives from both North Wales Cave Rescue and MCRO joining in the exercise.
With the Cwmystwyth site comprising of many entrances, shafts and open stopes spread across a wide area it was natural for the teams to split into separate groups to scour the hillside, armed with a map showing potential entrances (many of which are no longer even visible!). With a number of teams and so many features it was perhaps inevitable that at times those running the incident control were a bit overwhelmed with the amount of information and radio traffic flowing back to them as entrances were checked off as having been investigated.
The day's exercise also gave opportunity to try out the SWMCRT's newly acquired "Cave Link" through rock communications system. Read a more detailed report >>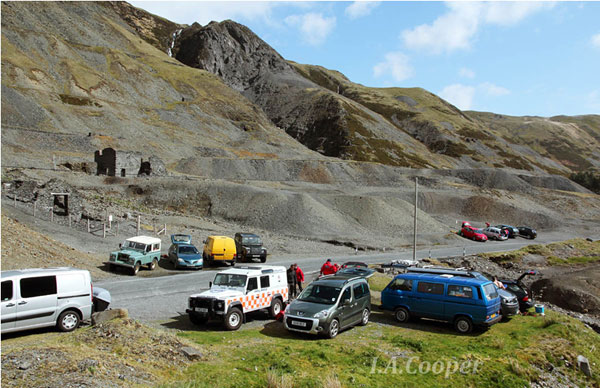 AGM & Committee Changes, 8th May 2015
The AGM this year was held at Tweedale Fire Station where team members were able to see the new store room that Shropshire Fire and Rescue Service have generously allocated to us.
During the AGM there was a change to the committee with the addition of some new faces:
Mike Clayton became Chairman, Andy Kennelly; Secretary and Graham Smith; Treasurer.
Many thanks to Steve Holding (former Chair) and Dave Bowdley (former Treasurer), who have spent many years at the helm, we owe you a big vote of thanks and we look forward to receiving your continuing support.
Team on Standby, 3rd May 2015
On May bank holiday Sunday at the request of West Mercia Police, MCRO wardens were put on standby, and ready to call out team members, to help search quarries, drains and tunnels in the Clive area for a missing person. Fortunately, all ended well, when the person concerned was found safe and well and the wardens stood-down.
Team Training Day, 11th January 2015
Team members from MCRO and GCRG joined together for the annual training day at Total Access (UK) Limited's training centre, Eccleshall. Members were divided into groups of 4 lead by team wardens and co-ordinators, the groups then rotated round 8 different training exercises/workshops.
The workshops covered topics ranging from assorted rigging techniques, to communications and first aid, plus a 'rescue' quiz to test people!
By working in small groups all team members were able to familiarise themselves with the various techniques and equipment used in the workshops, the day proved very successful.
Electronic T-Card System Developments
Development has continued on the electronic T-card system, CRIMS and a 60 day trial version (beta) of the software is available for download. Find out more about CRIMS >>