The British Cave Rescue Council - Cave Rescue Conference 2017
The bi-annual BCRC cave rescue conference, held over the weekend of June 16th to 18th 2017 was blessed not only with an interesting and engaging series of talks workshops, and demonstrations but probably the hottest and sunniest weather encountered in Wales for years – it was a relief for many delegates, after the long climb to OFD Top Entrance to escape underground!
Hosted by South and Mid Wales Cave Rescue Team (SMWCRT) at Penwyllt the event was attended by over 80 cavers representing most of the UK cave rescue teams. Those making a long weekend of the conference were able to enjoy an introductory social on the Friday evening with a meal of Cawl (traditional Welsh lamb stew), huge chunks of bread and cheese, and some excellent apple crumble and custard (not necessarily all in the same bowl!), plus a bar run by South Wales Caving Club, while watching a series of caving and cave rescue slideshows and films (produced by Andy and Antonia Freem) in the marquee set-up for the weekend talks.
The Saturday events started bright (literally) and early with the arrival of the AW139 Coastguard Search and Rescue helicopter from St. Athan landing nearby. Conference delegates were then given guided tours by the crew and given chance to see the wide range of equipment carried on board. This machine is due to be replaced in October by a larger one, capable of carrying more people as part of improvements to the helicopter rescue service.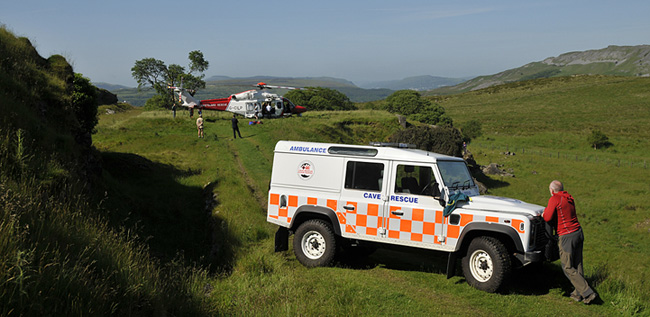 Above: The early morning visit from the AW139 Coastguard Search and Rescue helicopter.
Conference Talks, Demos and Exercises
The morning sessions on the Saturday and Sunday were taken up with talks and demonstrations on a variety of topics, followed by a relaxing lunch time for teams to try their hand at the Stretcher Race. Afternoons were given over to a number of practical workshops, both surface and underground.
More images and details can be found on the British Cave Rescue Council website >>
A Big Thanks
To Peter Dennis (Conference Co-ordinator) and all the South and Mid Wales team members for their hard work in making the weekend such a success, not forgetting Ashford Price and everyone at Dan-yr-Ogof for the excellent Saturday evening entertainment and meal, plus the sponsors of prizes for the various events Cotswold Outdoors, Lyon Equipment and Starless River.