Queen's Platinum Jubilee Medals
Twenty five Midlands Cave Rescue volunteers are honoured to be recipients of the Jubilee Medal in celebration of Her Majesty The Queen's Platinum Jubilee. The medals were presented by the Assistant Chief Fire Officer for Shropshire Fire & Rescue Service, Simon Hardiman, on the iconic bridge at Ironbridge, Shropshire.
Midlands Cave Rescue Organisation is made up of local, experienced cavers and mine explorers who are willing to voluntarily assist others who may be lost or injured in the caves and mines of the West Midlands, Shropshire, Herefordshire & Worcestershire and the Thames Valley. Our remit for rescue extends to any underground void (excluding coal mines) and also covers crag rescue and land search. Team members are all volunteers, on call 24/7.
In the last few years, as well as rescuing people and animals locally, team members played a key part in the cave rescue of the football team in Thailand and the 54 hour South Wales cave rescue in November 2021, the longest recorded underground stretcher carry in the UK.
Thanks to English Heritage for permission to use the Iron Bridge and Giga Images for taking the photos (before the rain 'forced' us to take shelter in a nearby public house).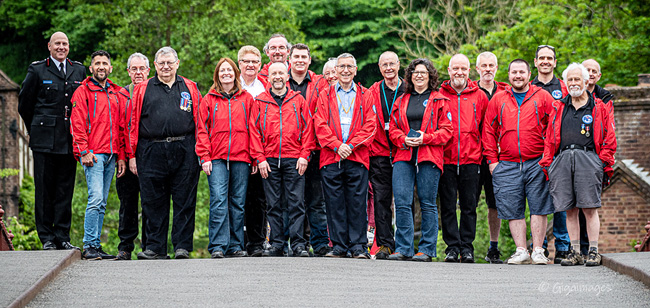 Team members with Assistant Chief Fire Officer, Simon Hardiman (left) on the Iron Bridge. (Picture: Gigaimages)
BCRC AGM Weekend April 9-10, 2022
This weekend, five members of MCRO joined representatives of cave rescue teams across the UK for a weekend of training, discussion, socialising and the British Cave Rescue Council (BCRC) AGM in the beautiful Peak District at Buxton.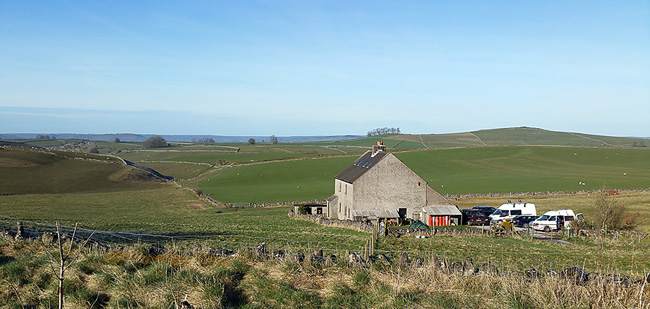 On the Saturday the BCRC was officially presented with the new heated casualty jackets and casualty bag (for use in stretchers) by the kit sponsors the
British Caving Association
(BCA) and
Subterranea Britannica
.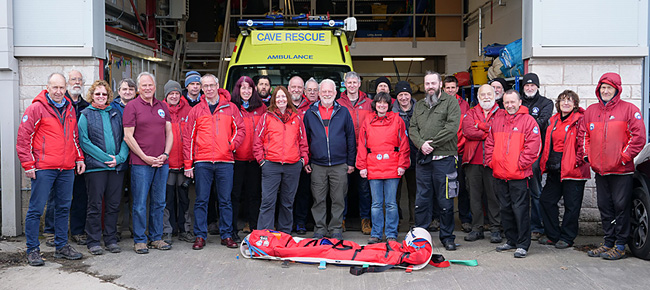 Representatives of BCA and Subterranea Britannica presenting the casualty bag and jacket to BCRC teams. (Picture: Paul Taylor)
Multi-team Training, March 27, 2022
Some of our team members attended an excellent multi-team training day organised by Severn Area Rescue Association. Great to meet up with other teams, practice existing skills and learn new ones ... helicopters, stretchers, handling casualties, and the highlight was learning about victim recovery dogs, used to detect victims of drowning. Thanks to SARA for a really informative and enjoyable day.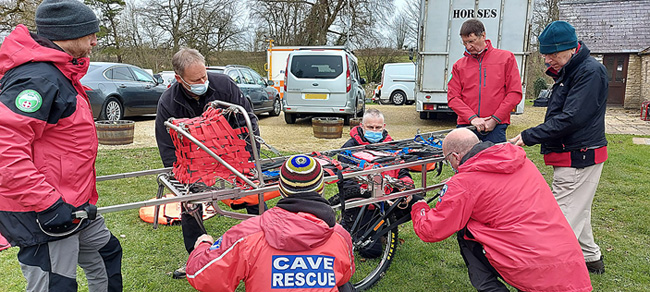 Getting to grips with a stretcher wheel. (Picture: Emma Porter)
Sharing Knowledge, 5th-6th March 2022
It was all about sharing our knowledge over the weekend in the Mendips. Our Chair & Training Co-ordinator provided an equipment inspection course to students attending the Southern Council of Higher Education Caving Clubs (SCHECC) regional meet, and our Comms Officer demonstrated our microHeyphones at Mendip Cave Rescue's stone mines training day.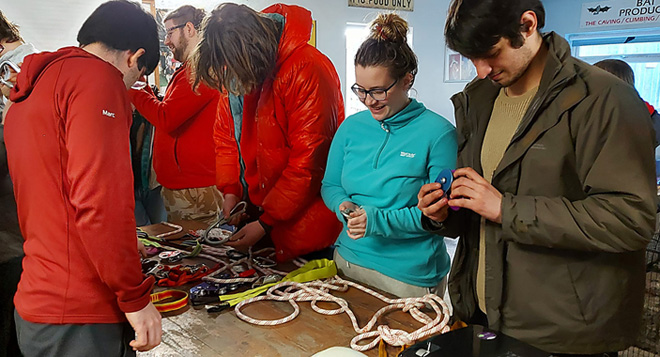 The SCHECC Equipment inspection course - practical. (Picture: Emma Porter)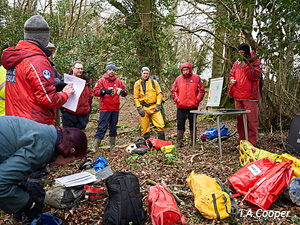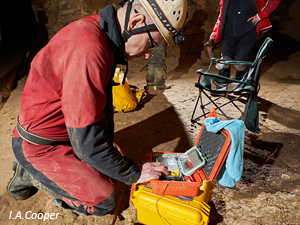 The MicroHeyphone during the MCR stone mine training day. (Pictures: I.A.Cooper)
Winter Training Day, 27th February, 2022
We were finally able to met at Arco Professional Safety Services training centre, Eccleshall (formerly Total Access) for our annual winter training session, making use of their excellent facilities and rope access workshop. After a gap due to COVID it was great to finally be able to meet and brush up on 'rusty' skills. See the Training page for a little more detail.