Shropshire Fire & Rescue Open Day, September 2, 2023
Shropshire Fire & Rescue Service are celebrating their 75th Anniversary this year, so we were honoured to be invited, along with other groups, to have a display at the Open Day at Shrewsbury Fire Station. We took along a 'tube' and squeeze box (courtesy of Dudley Caving Club) to provide some interest for the children (and adults!). It was amazing how many times some of them went through the tube and squeeze box before running round for another go. Although collecting stickers for crawling through might have had something to do with it!
It must make an impression on them, just after we set-up a young girl ran up to the display, all excited as she remembered us from previous events and wanted to be the first through the tube this year.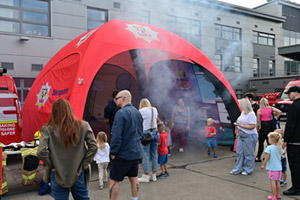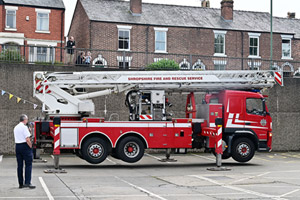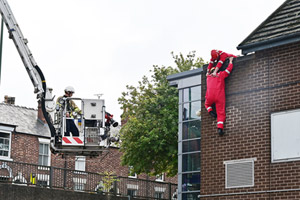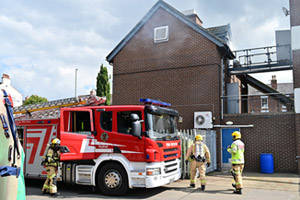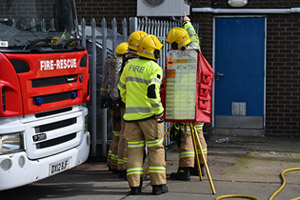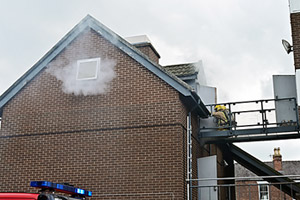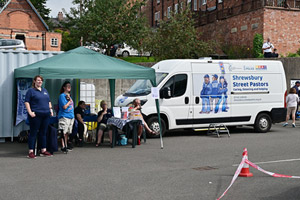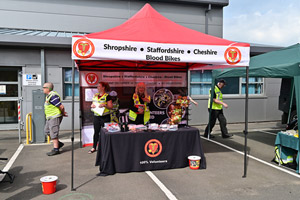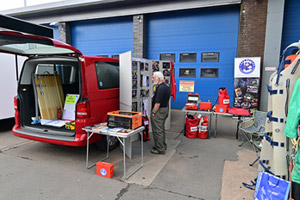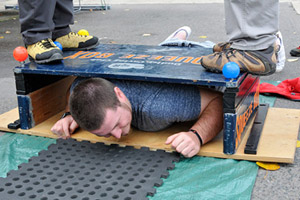 Grand Auction, July 15, 2023
A massive THANKS to everyone who worked so hard to set up the Grand Auction and Sale at the Gloucester Cave Rescue Group Depot, and to those who donated, bid, bought, ate & drank on the day. It was a fantastic team fundraising effort!
See the Fundraising page for pictures of sone of the auction items.
BCRC AGM Weekend April 15-16, 2023
This weekend, members of MCRO joined representatives of cave rescue teams across the UK for a weekend of training, discussion, socialising and the 16th the British Cave Rescue Council (BCRC) AGM in the beautiful Peak District at Buxton.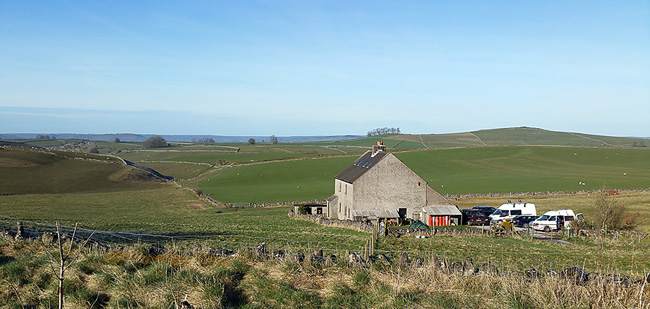 Sharing Knowledge, 5th March, 2023
It was all about sharing our knowledge this weekend. Our Chair & Training Co-ordinator provided an equipment inspection course to our team members and colleagues in the Severn Area Rescue Association at their Kiddeminster depot.
Stores Social and Familiarisation, 10th February, 2023
On a cold Friday evening team members met at our rescue stores for tea, cakes and cookies, plus the chance to 'pull stuff off the shelves'. The evening gave members a chance to see where items are kept in the stores - and to investigate the contents of various bags. Luckily they did put everything back. Strangely we didn't manage to eat all of the cookies although Karen Harris's homemade cakes disappeared before you could say "another slice?"!!
Winter Training Day, 15th January, 2023
Our first training session of 2023 allowed us to meet up and exercise away those mince-pie side effects in the Arco Professional Safety Services training centre, Eccleshall (formerly Total Access). They kindly allow us to make use of their excellent training facilities and rope access workshop. See the Training page for a little more detail.