Awards & Honours for BCRC Thailand Rescue Team members
Congratulations to the members of the BCRC rescue team, involved in the rescue of the Wild Boars football team and their coach from the Tham Luang Cave in Thailand, who have received national awards and honours in the New Year's Honours list announced on 28th December 2018.
Rick Stanton and John Volanthen - George Medals (GM)
Chris Jewell and Jason Mallinson - Queen's Gallantry Medals (QGM)
Josh Bratchley, Connor Roe, and Vernon Unsworth - Members of the Order of the British Empire (MBE)
Read the BCRC Press release about the announcement.
Snailbeach Evacuation Exercise, 11th August
Shropshire Mines Trust take tour groups into Robert's/Perkin's and wanted to test their 'Emergency Rescue Plan' that is initiated should a tour group become trapped underground. As MCRO would be called to assist during such an incident it was decided to test the evacuation procedure.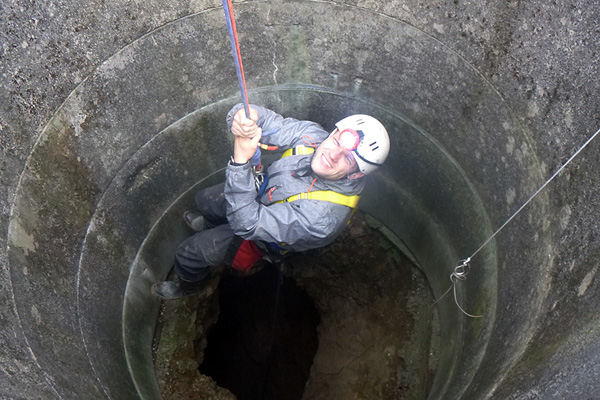 Happy Outcome for Bill, 7th August
It was a happy outcome for Bill the collie who, while herding sheep, had fallen onto a ledge at the head of a high waterfall near the famous Pistyll Rhaeadr, a few miles from the village of Llanrhaeadr-ym-Mochnant in Powys, Wales.
Working with colleagues from South & Mid Wales Cave Rescue Team we were able to bring Bill back to the top of the mountain and reunite him with his owner.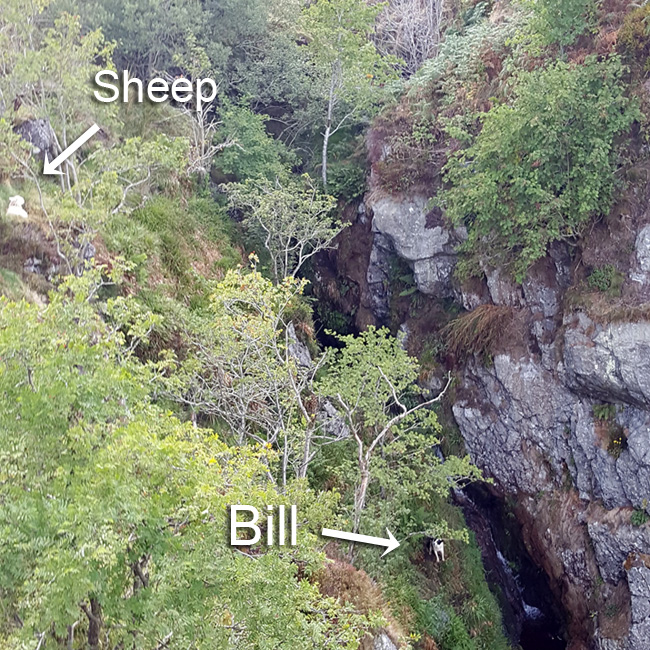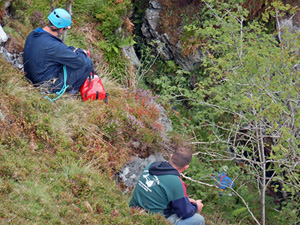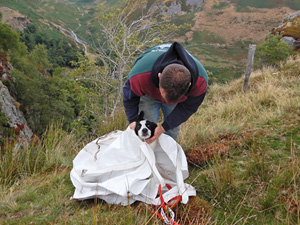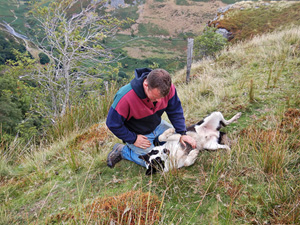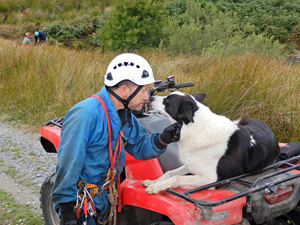 Congratulations on a successful Cave Rescue, Thailand, 10th July
Congratulations to all those involved in the successful cave rescue of the 12 young boys and their football coach from Tham Luang Nang Non Cave in Thailand. Details of the involvement of the British Cave Rescue Council and cavers from a number of UK cave rescue teams can be found on the BCRC website.
A BBC News article on the rescue containing an interview with members of MCRO cave diver Rick Stanton, BCRC and other cave rescue members can be found on the BBC News site.
Supporting Mendip Cave Rescue @Priddy, 6th-8th July
It was all about teamwork this weekend ... Midlands CRO were supporting Mendip CR at Priddy Folk Festival, helping provide First Aid cover. These two volunteers did double shifts to free up other Midlands CRO members who were working to support the Thailand cave rescue. Thank you!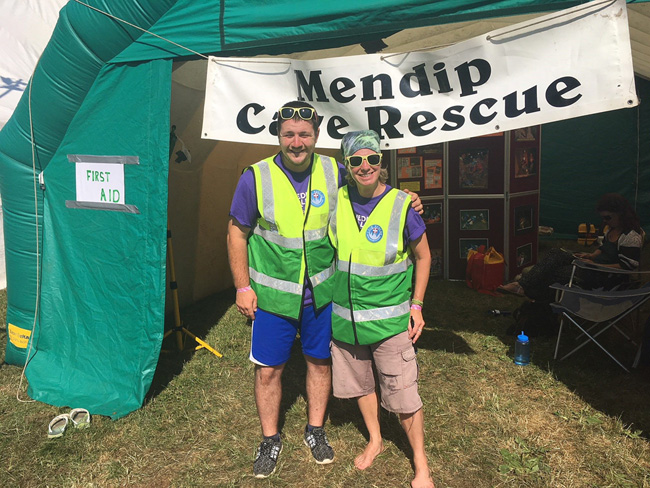 Mountain Rescue England & Wales AGM, 19th May 2018
A number of team members attended the MREW AGM in Lancashire, not just representing MCRO but wearing a number of British Cave Rescue Council 'hats'.
AGM, 18th May 2018
Held at Tweedale Fire Station, there were changes to the committee. Which remains: Mike Clayton - Chairman, Deanne Wilkins- Secretary, Graham Smith - Treasurer.
BCRC Training Day & AGM Weekend, Buxton, 8th-9th April 2018
MCRO reps attended the BCRC AGM at the weekend. Emma continues as BCRC Secretary, Mike as Equipment Officer and Kelvin as Web Officer. Thanks to all MCRO volunteers working at a national cave rescue level..
Succesfull Insepction Course, 16th March 2018
Well done to MCRO members, Andy, Dea and John, who passed the Equipment Inspection course this month, and Emma who renewed her certificate. Thanks to Mike, BCRC Equipment Officer, for running the course for Midlands Cave Rescue Organisation and Severn Area Rescue Association.

Winter Training Day, 7th January 2018
Our annual training day at Total Access (UK) Limited's training centre, Eccleshall was another success with team members practicing a range of techniques. This year they included rescuing a caver stuck on a pitch, and using the larkin frame for raising an lowering a stretcher over an edge (we used a small building!).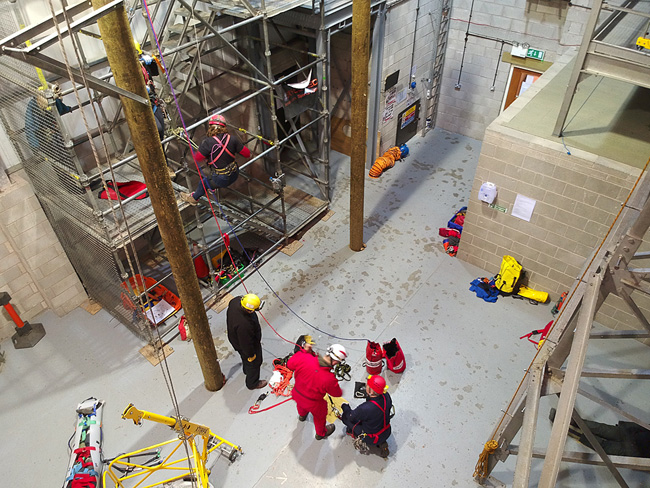 Rescuing a caver trapped on a pitch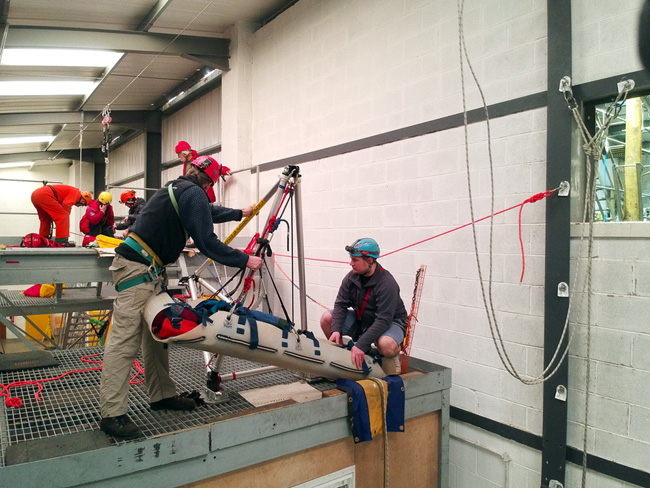 Using the Larkin Frame for stretcher haulage over an edge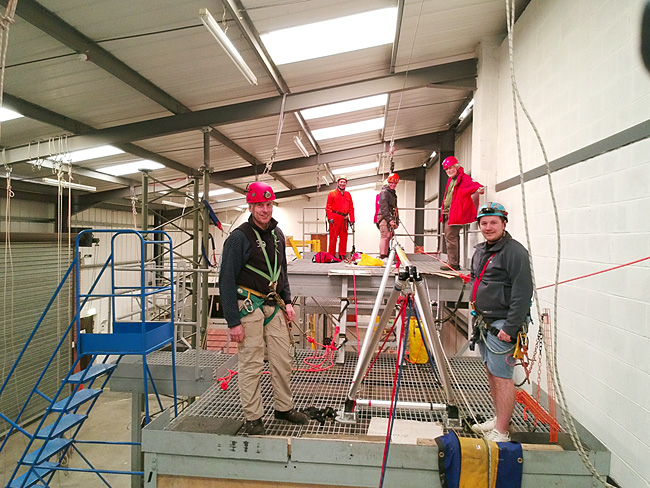 Team members: Rick Stanton, Ian Millard, Dea Wilkins, Steve Holding and Josh Rowson on stretcher haulage. Thanks to Bartek Biela for images of the training from his drone.