Testing an Evacuation Plan, Saturday 11th August 2018
Shropshire Mines Trust take tour groups into Robert's/Perkin's and wanted to test their 'Emergency Rescue Plan' that is initiated should a tour group become trapped underground. As MCRO would be called to assist during such an incident it was decided to test the evacuation procedure.
For this exercise it was assumed that a tour group within Roberts/Perkins Level had been trapped
by a collapse of the level near the entrance – however unlikely this might be. A group of seven volunteers from RAF Cosford 605 Auxillary Squadron took the part of "visitors" and were given a normal tour of Robert's Level until they found their exit blocked by a 'collapse'. The tour guide then took them to a part of the mine that is considered less draughty and a more comfortable waiting place.
The evacuation route for a blockage in the entrance is via a steep climb up a large chamber beyond the normal visitor area, then up a slope to the bottom of a shaft, known as "Sheep shaft", where there is a vertical haul to surface of 15m to the shaft top.
Once the team arrived on site, it took less than an hour to lift the shaft lid, rig the Larkin frame on top (the frame was securely bolted to the steel lid to prevent it slipping) and start sending team members including advanced first aiders underground. In a real situation there is unlikely to have been any contact with those trapped underground so it was essential to send a rapid search team in to assess the situation, locate the trapped party and find out if anyone was in need of first aid treatment.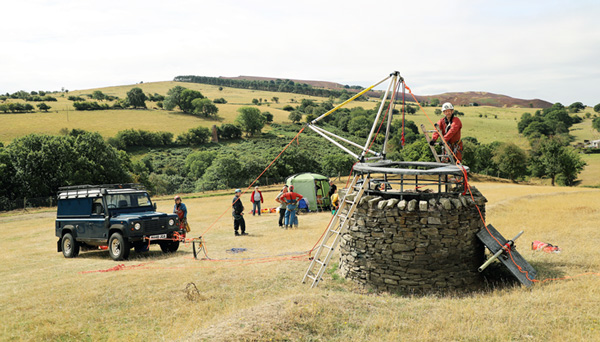 The Larkin frame rigged on the shaft top and team members descending. (Picture: Bartek Biela)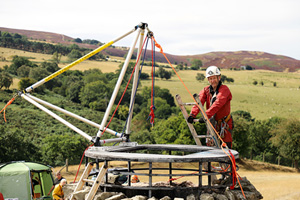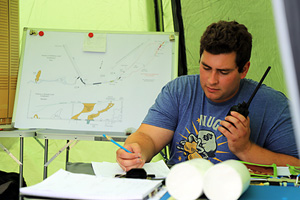 Team chairman Mike Clayton about to descend Sheep shaft and Gareth Rushton logging radio messages in the Control tent. (Pictures: Bartek Biela)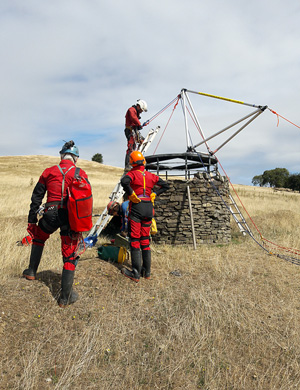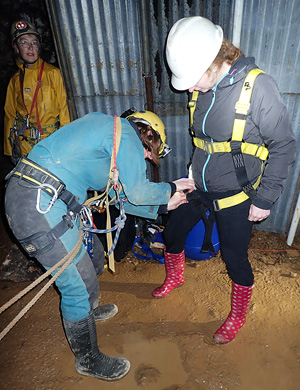 The search team descending Sheep shaft and kitting up a 'casualty' with a harness ready for the trip to the surface.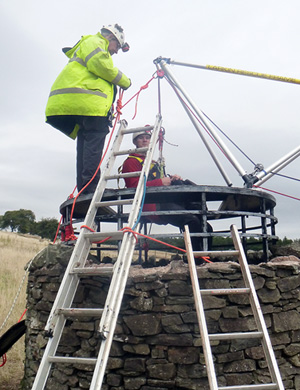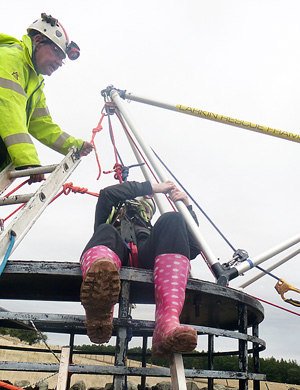 Casualties make it to the surface. (Pictures: Steve Holding)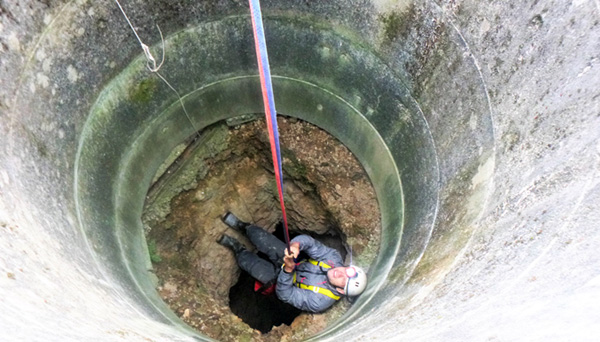 A 'casualty' being hauled up Sheep shaft. (Picture: Steve Holding)
On the day, everything progressed very quickly, and all the visitors were removed via 'Sheep Shaft' within two and half hours of being located by rescuers. Some issues were highlighted during the exercise -mainly for the welfare of those waiting underground. As a result changes have been made to the 'Emergency & Rescue Plan' and updates made to the instructions for the Mines Trust guides.
A Big Thank You!
To the volunteers from 605 Auxiliary Squadron (Cosford) who bravely volunteered to help test the rescue plan.