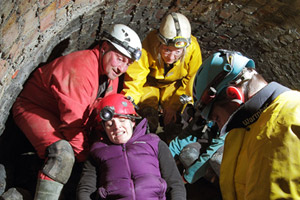 This year we have been able to organise and be involved with a number of training events as things have slowly got back to normal after COVID.
Team members have been refreshing their skills in different aspects of First Aid and a variety of Cave Rescue techniques both above and below ground.
Our practice locations can range from indoor climbing facilities, to "classroom" based theory sessions and full underground practices with members of other organisations.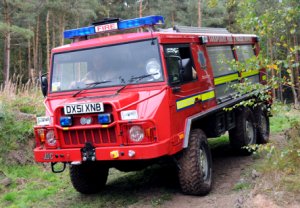 We also hold 'familiarisation' exercises with local Fire & Rescue teams and other emergency services and members attend training session with Gloucestershire Cave Rescue Group, South & Mid-Wales Cave Rescue Team and other CROs.
If you are an experienced caver and would like to join us, please contact one of the Wardens on the 'Contact Us' page.
Recent Training Events
Cwmyswyth Mines Practice, July 1, 2023
Five team members travelled to Cwmystwyth in mid-Wales to join colleagues in the South and Mid Wales Cave Rescue Team for their biennial mines practice. In true Welsh style we struggled to get changed in 'damp' weather - very strong wind and horizontal rain, blowing our dry clothes away and filling the back of the vehicle with water!
Once assembled those present were split into 2 groups. One group was deployed to search underground for two missing cavers. The other to another location to reports of a caver 'stuck' mid-pitch on a rope.
Both scenarios gave the groups some interesting problems, which were successfully overcome.
Evening Comms Training Day, June 16, 2023
On a nice sunny Friady evening we had a comms training session. Lead by Graham Smith a pair of µHeyphones (underground radios) were set-up to pass messages from an 'underground' station to a 'surface' one. The surface team then passing the message on to control via VHF radio.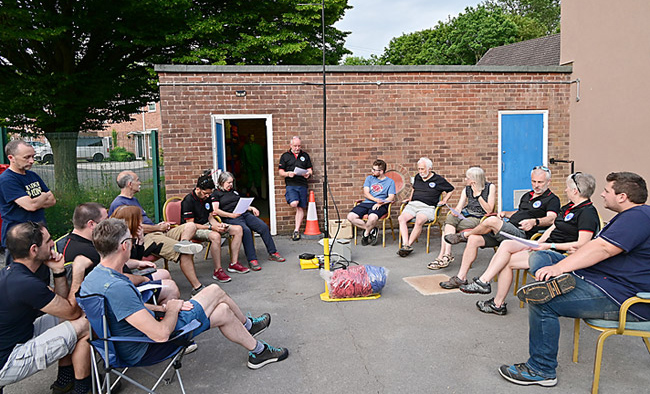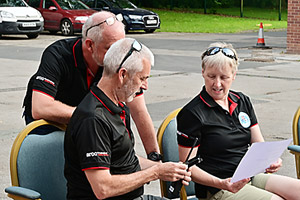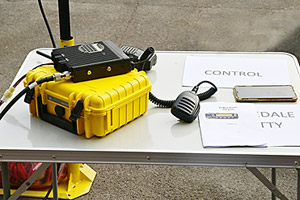 Training Day, May 21, 2023
We were able to make use of the Training room and yard area at Tweedale Fire Station to run several 'round robin' workshops. These covered First aid, personal kit inspections and, setting up and operating rescue control.
Thanks to Shropshire Fire and Rescue Service and the Station Manager for allowing us the use of the site.
Underground Training, March 25, 2023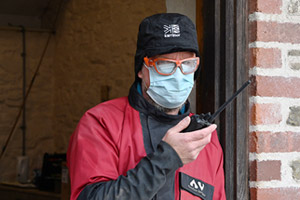 Team members assembled at Snailbeach Lead Mine for an underground rescue practice. Reports of a 'casualty' having fallen on a pitch and in need of evacuation from a lower level was the scenario for the day.
Control was established in the mine visitor center with radio contact from there to the mine entrance. To be different the field telephones were used for the comms along the adit to the head of the pitch where the 'casualty' was located.
Thanks to Shropshire Mines Trust for allowing us to use the mine and buildings.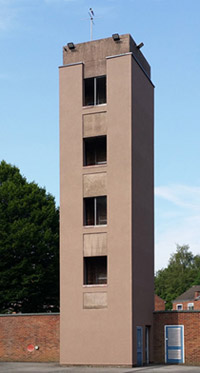 Evening Training, March 10, 2023
For our first evening training session of the year we were able to make use of the newly renovated tower at Tweedale Fire Station.
Once again it was a stretcher hauling exercise, but this time in a different location - and it was dark and cold!
Several scenarios were practiced, allowing team members to rotate round different roles.
Thanks to Shropshire Fire and Rescue Service and the Station Manager for allowing us the use of the tower.
Sharing Knowledge, 5th March 2023
It was all about sharing our knowledge this weekend. Our Chair & Training Co-ordinator provided an equipment inspection course to our team members and colleagues in the Severn Area Rescue Association at their Kiddeminster depot.
Winter Training Day, 15th January, 2023
Our first training session of 2023 allowed us to meet up and exercise away those mince-pie side effects in the Arco Professional Safety Services training centre, Eccleshall (formerly Total Access). They kindly allow us to make use of their excellent training facilities and rope access workshop.

The day started with a session on First Aid. Followed by a talk about civil contingencies and how it effects cave rescue.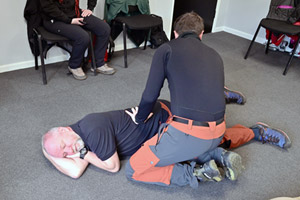 After lunch we made use of the Arco training workshop to refresh rigging and hauling skills.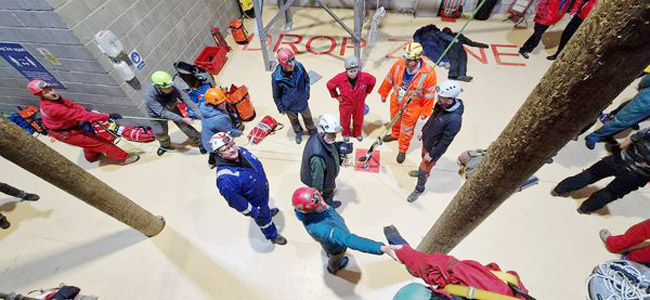 View of Team members in the Arco Training workshop. (Picture: Bartek Biela)
Colleagues discussing the best approach to set-up a high level haul to pass a casualty through a small 'window'.