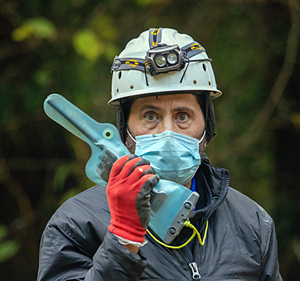 As the problems of the Coronavirus pandemic slowly recede we have been able to organise and be involved with a number of training events during 2022.
This has allowed team members to refresh their skills in different aspects of First Aid and Cave Rescue techniques above and below ground.
Although, we have still maintained COVID protocols as far as possible.
November 27 - Land Search Training
We do a little more than cave rescue . . . on a frosty Sunday morning ten team members made the trip to Cirencester where we met up with colleagues from another cave rescue team for a day of Land Search Training. This will allow us to support our neighbouring Mountain Rescue team when called out to look for missing persons.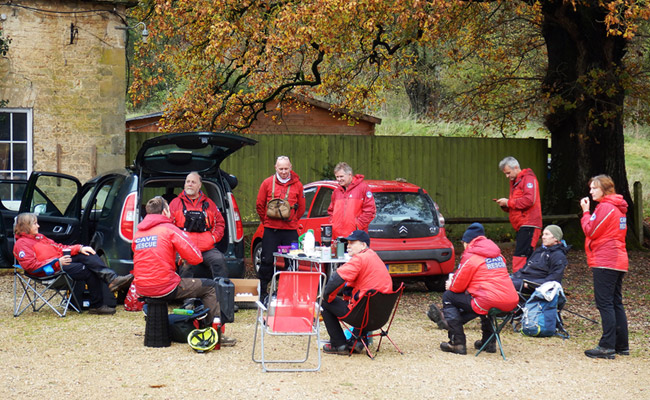 Time for a quick tea and biscuit break!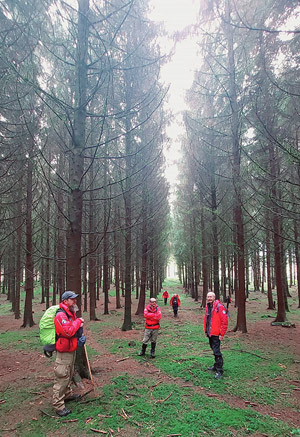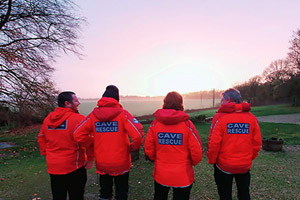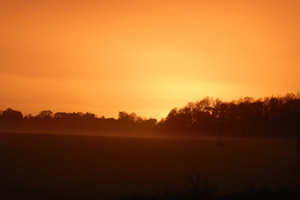 Searching woodland and admiring the sunset at the end of the day.
Thanks to Severn Area Rescue Association for providing an excellent training day.
SWERA Day - 23 July 2022
South West England Rescue Association (SWERA) the regional organisation which coordinates the volunteer search and rescue teams in the South West of England, held their inaugural training event at Livox Quarry near Tintern on July 23rd. Six MCRO team members joined members from Severn Area Rescue Association (SARA); Gloucester Cave Rescue Group; Mendip Cave Rescue; South East England Cave Rescue Organisation; Wiltshire Search and Rescue (WilSAR); Dorset Search and Rescue (DorSAR); Avon and Somerset Search and Rescue (ASSAR); and South West HART Paramedics for an interesting range of workshops.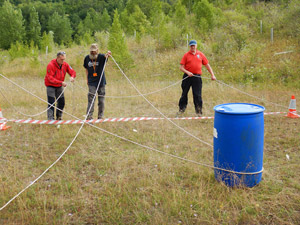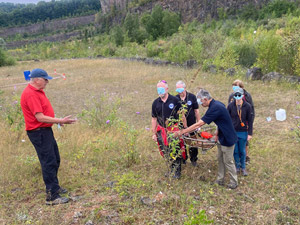 Two elements of the Team Building challenges - the blind-folded stretcher carry over rough ground was fun!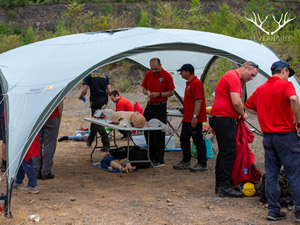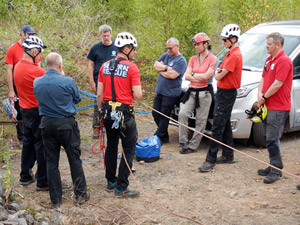 The Medical workshop (Picture: Severnside Photography) and Rope workshop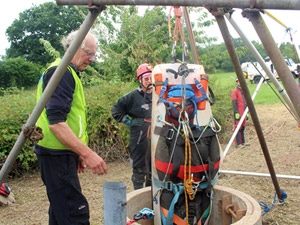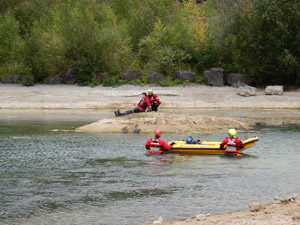 The Cave workshop (in a nearby cave), and Swift Water Rescue workshop (making use of the flooded quarry)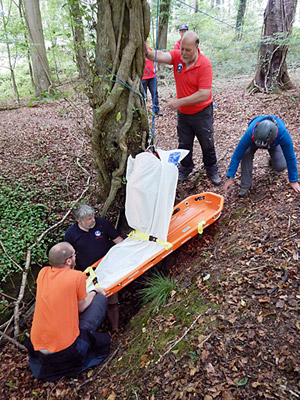 The well thought out workshops allowed members of the various teams to work together on a number of different tasks. They also provided opportunities for people to try activities that they don't normally encounter and to swap ideas and information.
Thanks to SWERA for organising a very enjoyable day. Special thanks to the Rapid Relief Team for providing catering during the event - it was worth going just for the tea and burgers!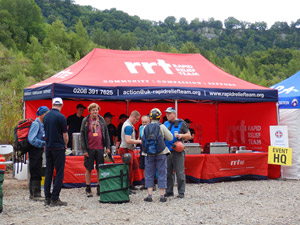 BCRC ResCon22 - June 25 to 26, 2022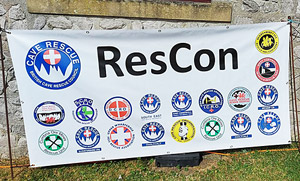 Nine representatives of Midlands CRO met up with cave rescuers from all over the UK for the biannual British Cave Rescue Conference hosted by Derbyshire CRO at Castleton. A wide range of workshops were laid on from engineering and underground comms to crime scene training and technical rigging, it was an excellent opportunity to learn new skills and share ideas. Plus finally meeting colleagues from other teams after COVID interrupted social interactions for so long.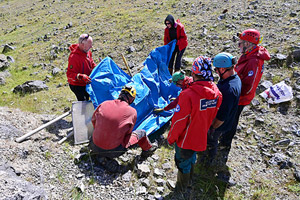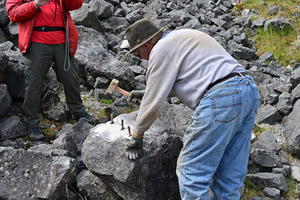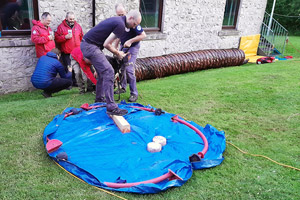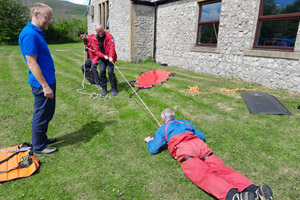 Some of the weekend activities and workshops.

Thank you to all those who contributed and attended, and made it such a fantastic weekend, and a special thank you to Derbyshire CRO for organising the event.
Stiperstones Area Search, June 11, 2022
Three 'youngsters' on holiday in the Stiperstones area were reported missing overnight. They were last seen walking up the hill out of Stiperstones village past the 30 mile per hour signs.
They are into Geo-caching and 'Urbex' and are known to have rucksacks and a couple of torches with them. The Police have asked the team to start a search in underground locations along their possible route, from their last known position.
Searching one of the smaller mines.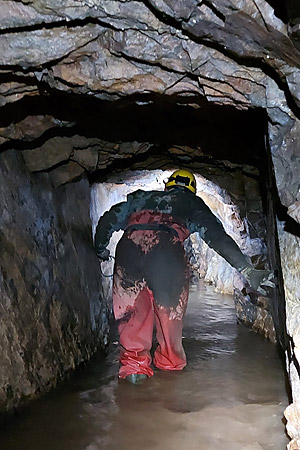 This was the scenario presented to team members on 11th June for the summer rescue practice. The aim was to acquaint team members with some of the smaller mines in the area and allow them to practice surface navigation and control skills. To add to the 'fun' a number of tickets and short lengths of rope (with knots in) had been placed in various underground locations with instructions to relay the ticket and knot details back to control.
We were blessed with a glorious sunny day for the exercise, apart from when we stopped for lunch and we were hit by a tremendous downpour! This delayed the afternoon session slightly. Unknown to the team a couple of volunteers from the Shropshire Caving & Mining Club had been 'placed' in one of the later mines to be searched as a surprise.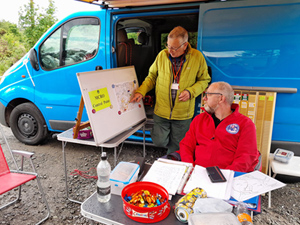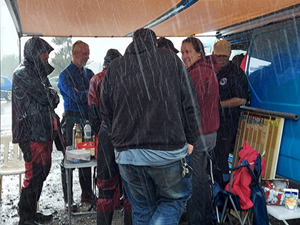 Surface Control and team members sheltering at control during lunch.
Thanks to all our team members who attended or helped organise the event, and a special thank you to the local land owners for allowing access to their land.
Multi-team Training, March 27, 2022
Some of our team members attended an excellent multi-team training day organised by Severn Area Rescue Association. Great to meet up with other teams, practice existing skills and learn new ones ... helicopters, stretchers, handling casualties, and the highlight was learning about victim recovery dogs, used to detect victims of drowning. Thanks to SARA for a really informative and enjoyable day.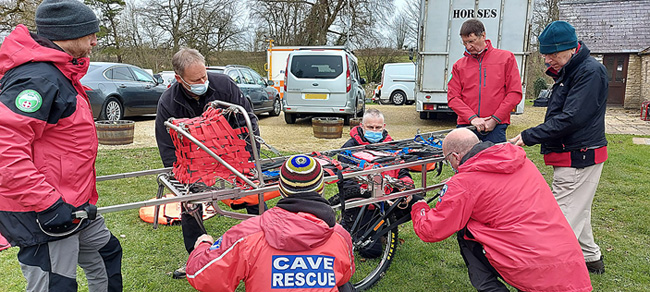 Getting to grips with a stretcher wheel. (Picture: Emma Porter)
Sharing Knowledge, 5th-6th March 2022
It was all about sharing our knowledge over the weekend in the Mendips. Our Chair & Training Co-ordinator provided an equipment inspection course to students attending the Southern Council of Higher Education Caving Clubs (SCHECC) regional meet, and our Comms Officer demonstrated our microHeyphones at Mendip Cave Rescue's stone mines training day.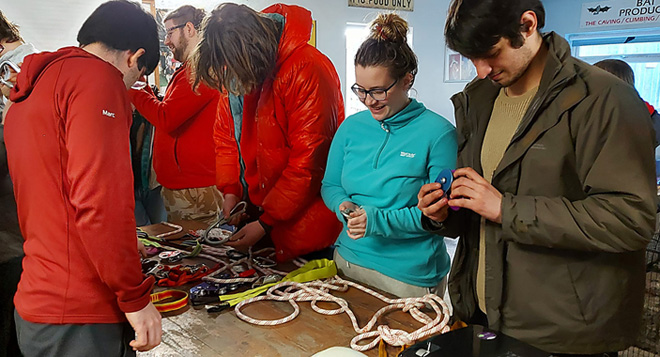 The SCHECC Equipment inspection course - practical. (Picture: Emma Porter)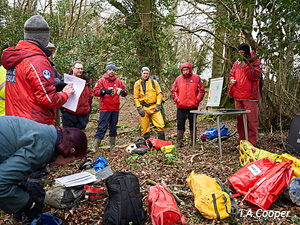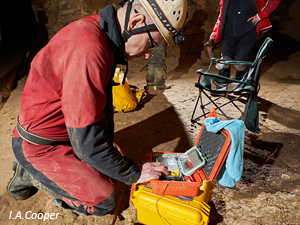 The MicroHeyphone during the MCR stone mine training day. (Pictures: I.A.Cooper)
Winter Training Day, 27th February, 2022
After a gap due to COVID it was great to finally be able to meet and brush up on 'rusty' skills in the Arco Professional Safety Services training centre, Eccleshall (formerly Total Access). The site of our winter training session, which allows us to make use of their excellent facilities and rope access workshop. We were joined by several new team members and volunteers from our neighbouring team Gloucestershire Cave Rescue Group.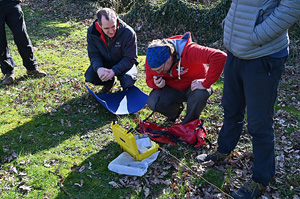 The day started with a refresher on personal kit inspections. Ian Cooper the Comms Officer then reminded on radio protocols and the setting up of the Heyphones - the through rock radio system we use to communicate from underground to the surface (and vice-versa). This was followed by a practical session outside with three Heyphones set-up and messages from 'Control' via VHF radio passed to one Heyphone then passed on to the other 'underground' stations.
After lunch we made use of the Arco training workshop to refresh rigging skills and experiment with some new 'toys'.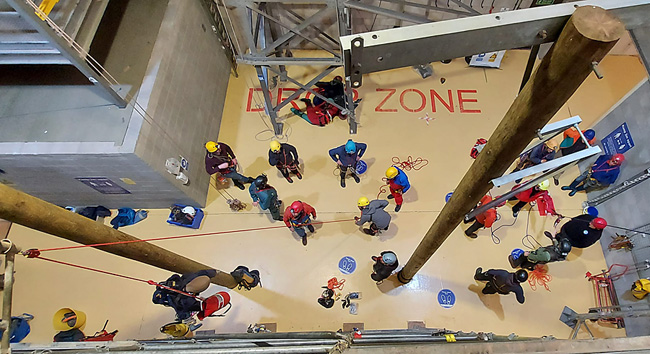 View of Team members in the Arco Training workshop. (Picture: Bartek Biela)
Colleagues refreshed their rigging and hauling using Petzl rigs and a weighted dummy for a casualty.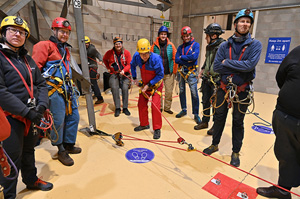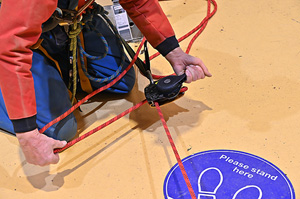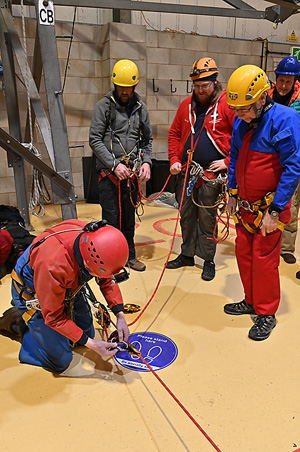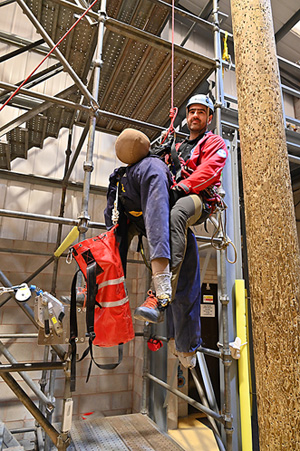 After the rigging and haulage exercise the new electrically heated casualty bag, which had been brought along by GCRG was examined and tested. Thanks to the British Caving Association and Subterranea Britannica (who have sponsored their construction) all cave rescue teams will be issued with one of these, plus a heated Casualty jacket.