Animal Rescue Session, Friday 29th November, 2019
This training session was to allow team members to try out the new dog harness, purchased as a result of the a dog rescue in September.
We had 2 dogs to try the harness on, collie 'Alfie' and husky 'Wolf'. Alfie was the heaviest, but both dogs seemed quite happy in the harness and once lifted off their feet they didn't struggle. South & Mid Wales CRT have a similar dog body harness and dogs lifted in that seem to have the same reaction, going limp and happily hanging there once off their feet. Whether this would be the case if they were scared, in a panic, and without their owners remains to be seen!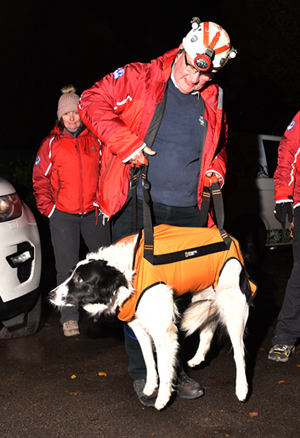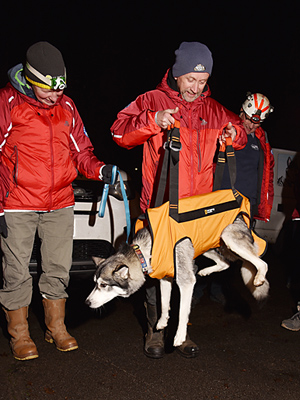 The animal rescue unit from Shropshire Fire and Rescue Service joined us later in the evening and demonstrated the range of equipment that they have on their appliances for dealing with larger animals. They also wanted to see our Larkin frame in action.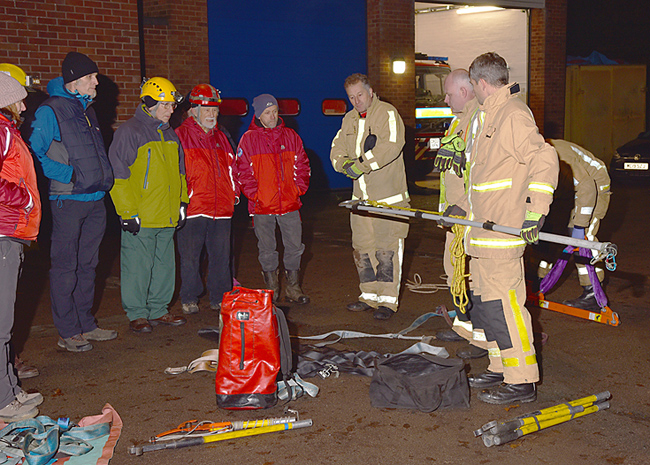 Larkin Frame Refresher & Animal Rescues
On November 8th, a refresher session was held at Tweedale Fire Station to remind team members how to erect and rig the Larkin Frame. Experiments with different ways of rigging the haul ropes were tried, some proved successful and effective, others not so.
Thanks to John Morgan we were able to test the various set-ups with one of the Shropshire Fire Service test dummies. Although we seemed to have our own team 'test dummy' courtesy of Josh Rowson.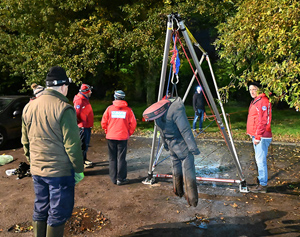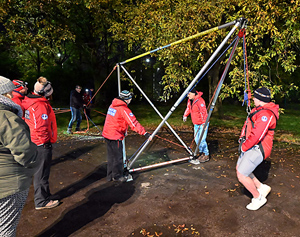 Ironbridge Levels, 28th June
On a sunny Friday evening a number of team members and partners met up in Ironbridge for a tour around some of the mine and tunnel entrances in the Gorge. Unfortunately, excessive vegetation made it very difficult to actually see some of them. So the eye of faith was a little strained. The tour was cut short when it was realised that the Ironbridge chippie closed at 9pm. Everyone just managed to get their orders in by 8:30pm before all the outside chairs and tables were removed! Still at least the food was good.
Underground Training, Shropshire, 11th May 2019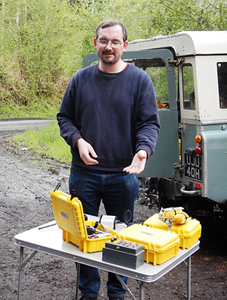 This underground practice was the first opportunity for team members to get to grips with the new µHeyphones built by Ian Cooper and 9 VHF SIMOCO radios donated to the team by CRO. As a joint Cave and Mountain rescue team CRO had funding from Mountain Rescue England and Wales for new digital radios, they kindly donated their old radios to any cave rescue teams that wanted them.
Ian started the exercise off with a briefing/reminder on the µHeyphones, before team members set off for underground - with the addition of the SIMOCO radios we almost had 1 radio for each team member on the exercise!
The scenario was an injured caver with a shoulder/arm injury, so no need for a stretcher, just careful hauling.
Comms from deep underground was via a µHeyphone, to a unit at the head of an underground winze and to one at the entrance to the mine. From the entrance a team member was able to relay messages via the VHF radios to Control situated at the parking area about 1,000m away.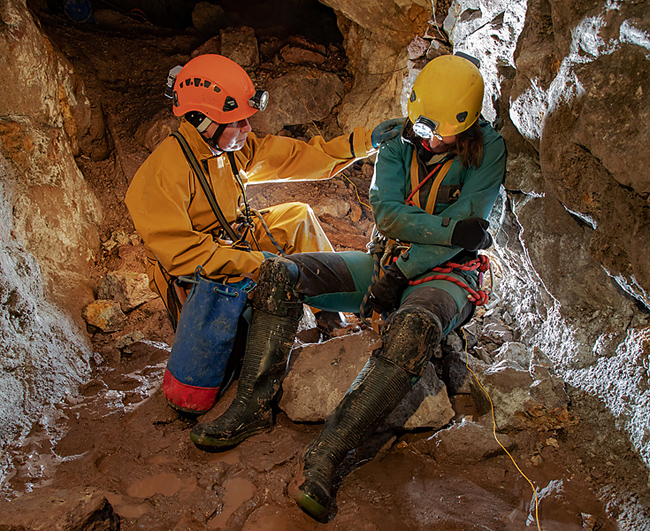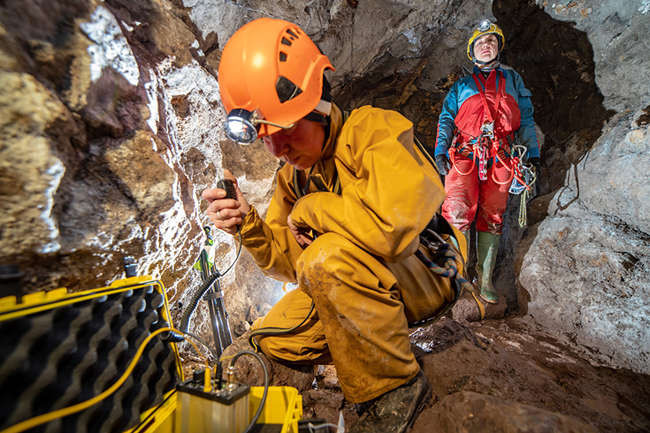 Summary
The exercise went smoothly and the comms worked well. For some of the newer team members this was their first visit to Huglith and they were able to try their rigging skills on the winze - which is a little challenging due to the restricted headroom and the fact that the pitch, after a short vertical section, slopes off back under the haul area.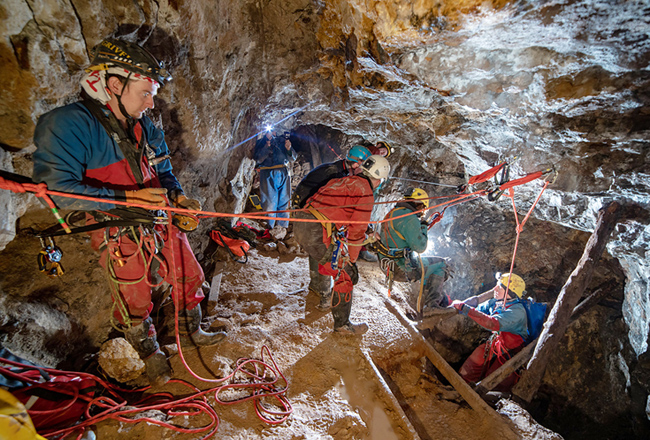 BCRC Technical Day 6th April - New Long Slix Stretcher
The SMWCRT team has been working with React to improve some design features of the 'slix' stretcher. This latest version incorporates new designs for C-Spine immobilisation and head support for casualties, with improved lifting/hauling eyelet locations. Attendees at the BCRC Technical day were able to get to grips with a prototype, try it out, provide feedback on the changes and make a few additional suggestions.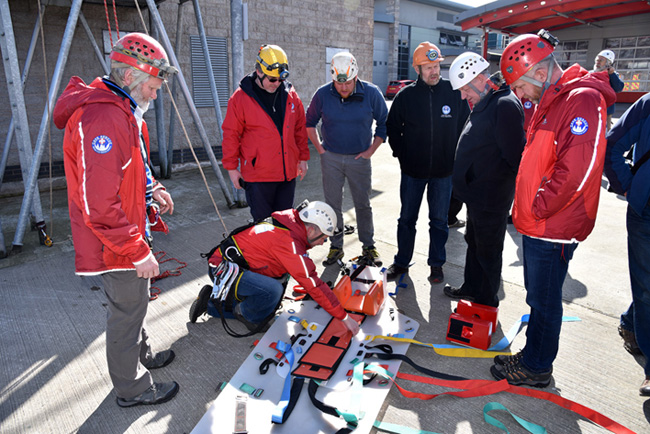 Representatives from various Cave Rescue teams evaluating the prototype React long Slix stretcher.
Find more pictures on the BCRC website.
Winter Training Day, 13th January, 2019
On a mild January Sunday we met at Arco Professional Safety Services training centre, Eccleshall (formerly Total Access) for our winter training session.

This year the morning session concentrated on familiarising team members with the new µHeyphones (through rock radios). After a brief session indoors we went outside for some hands on practice.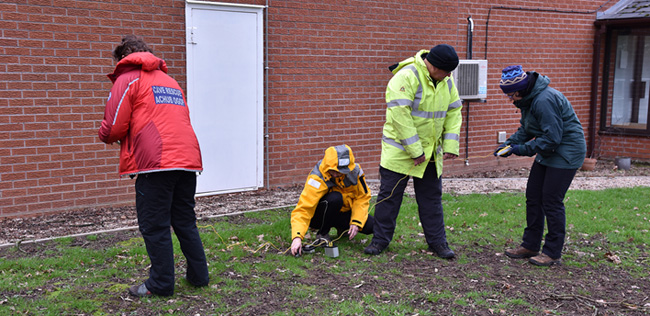 Team members rigging the Micro-heyphone radios during the practical workshop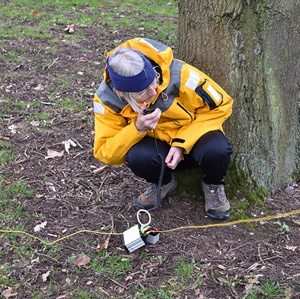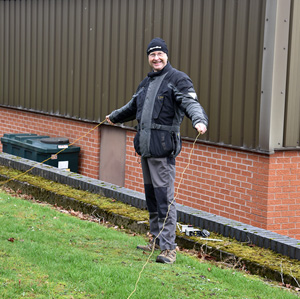 The µHeyphone sets are smaller than the original Heyphone as it uses modern surface mount components.
The afternoon session was in the training workshop and was a hauling exercise to move a "casualty" from the floor in one workshop, through a 'constriction' across a second workshop to land on a scaffold gantry (heavy weights were used in place of a casualty for safety purposes). It put our rope rigging skills to the test!