Shrewsbury Fire Station Open Day, Shropshire, 5th August 2017
It was a busy and fun day at Shrewsbury Fire Station Open Day on Saturday 5th. Among the highlights of the day was how to deal with the chip pan fires, cutting a casualty out of a car, rescuing a distraught person from a tall building, plus activities for children - a tour of a smokey inflatable house, plus climbing into fire tenders and displays from Shropshire & Staffordshire Blood Bikes, Shrewsbury Street Pastors, and MCRO. More pictures >>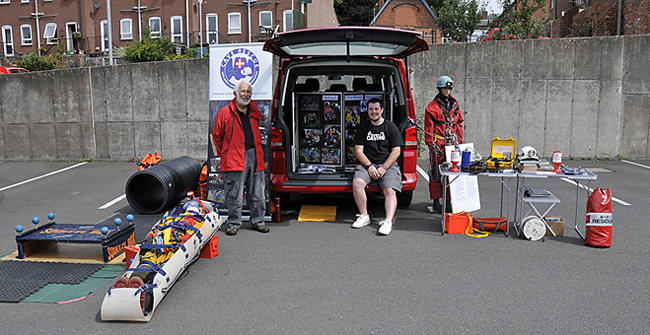 Telford Fire Station Open Day, Shropshire, 8th July 2017
Had a great time on Saturday at Telford Central Fire Station Open Day. Our display was visited by the Mayor of Telford & Wrekin Council (Councillor Stephen Reynolds) who gamely tried out our obstacle course - read a longer report >>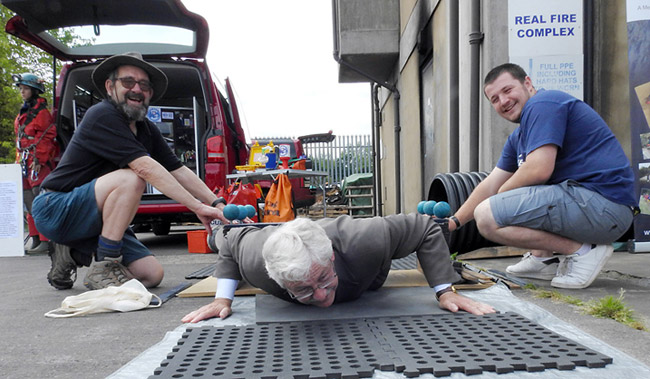 BCRC ResCon 2017, South Wales, 16th-18th June
The bi-annual BCRC cave rescue conference, held over the weekend of June 16th to 18th 2017 was blessed not only with an interesting and engaging series of talks workshops, and demonstrations but probably the hottest and sunniest weather encountered in Wales for years – it was a relief for many delegates, after the long climb to OFD Top Entrance to escape underground! Read a bit more >>
Mountain Rescue England & Wales AGM, 20th May 2017
A number of team members attended the MREW AGM in Lancashire, not just representing MCRO but wearing a number of British Cave Rescue Council 'hats'.
AGM, 19th May 2017
Held at Tweedale Fire Station, there were a couple of changes to the committee. We have a new Secretary, Deanne Wilkins and a new Equipment Officer Andy Kennelly. Mike Clayton remains as Chairman and Graham Smith; Treasurer.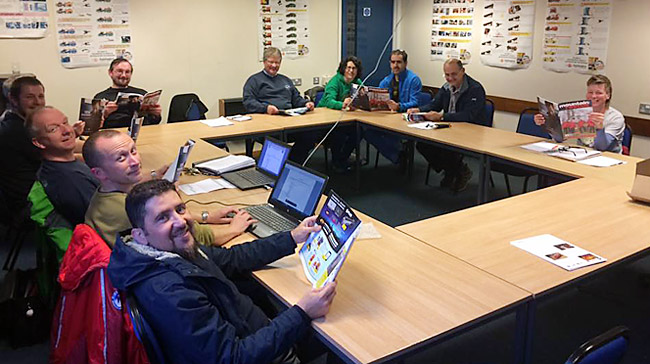 BCRC Training Day & AGM Weekend, Buxton, 8th-9th April 2017
Several team members attended the British Cave Rescue Council pre-AGM Technical day at Buxton Fire Station and the BCRC AGM the following day. Delegates to the Technical day were brought up to speed on developments with the Nicola III radios and new requirements for the Casualty Care qualification.
Team Training Day & Presentation, 8th January 2017
We shook off the New Year and Christmas endulgences with our annual training day at Total Access (UK) Limited's training centre, Eccleshall. This year a number of scenarios were set-up in their excellent training area, where we were able to practice rigging a tyrolean traverse, stretcher hauling and recovering a casualty from an artificial cave. See more pictures >>