Land Search Call-outs, 2019
Team members on the call-out list for Land Searches have had 9 assistance requests from Severn Area Rescue Association this year, to help with searches in the Gloucestershire, Cheltenham and Forest of Dean areas. While we were unable to deploy to all of them (one request arrived when team members were in Mid-Wales at a South & Mid Wales CRT practice, we did help out with some. In several cases we were about halfway to the rendezvous point when we received the 'Stand down' message.
BCRC ResCon 2019, 6th to 8th September, 2019
Over this long weekend the Mendip Cave Rescue team hosted the biennial BCRC Cave Rescue Conference. Based around a marquee in a field at Ebborways Farm on the outskirts of Priddy, we were lucky to have some warm, sunny days for the event.
The weekend was comprised of the familiar programme of practical training workshops and updates from key UK partner Search and Rescue Organisations. A number of above and below ground workshops addressed underground first aid and casualty care, cave diving support and rescue scenarios (in Wookey Hole), technical rigging for rescue, latest kit innovations and developments, SARCALL and underground communications.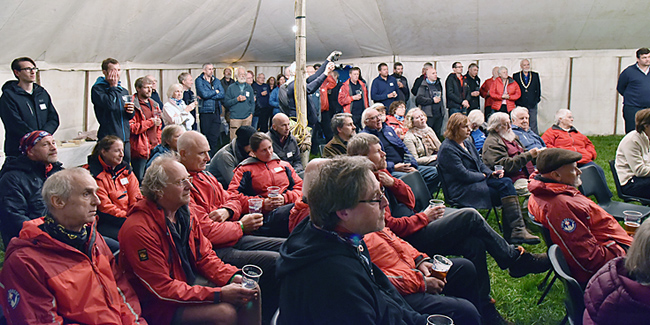 On the Saturday evening 4 brave (mad?) teams signed up for the Wessex Challenge this is a team based obstacle course with attitude! It is fair to say that the MCRO team didn't quite know what they had let themselves in for!!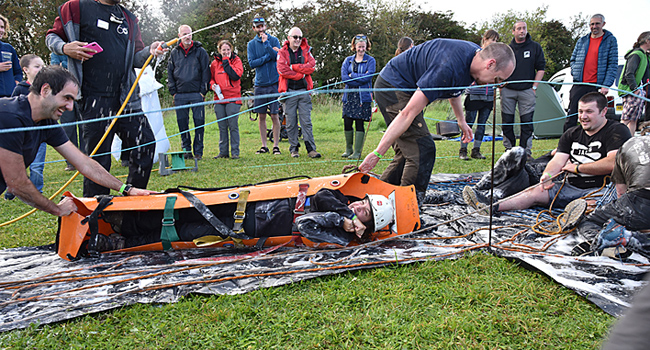 Dog Rescue, 7th September, 2019
The team were alerted to a large dog that had been spotted down a shaft at a Shropshire mine. Unfortunately, most of the wardens and a lot of team members were at ResCon 2019 on Mendip, with virtually no mobile signal. The only warden left in the area was available, after parking the steam roller that he was driving!
While he was collecting kit from the rescue stores a number of team members in the local area were mobilised to assist. The dog had gone missing the previous day (Friday) and was spotted down the hole earlier on Saturday afternoon but was now not visible and there was no response to calls.
A team member descended (equipped with dog biscuits), located and eventually befriended the very timid dog. After some persuasion, he got the dog to come to him and secured it. The dog was very friendly but obviously very frightened – it proved very difficult to keep him in the builders bag that he was placed in. While hauling the bag to surface more effort was required keeping the dog calm and in the bag than actually getting it out the hole!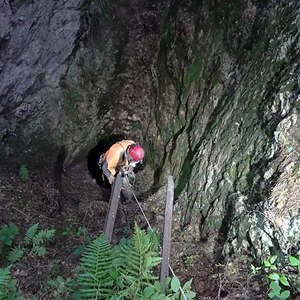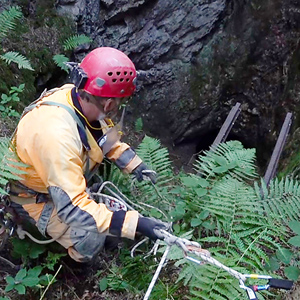 The owners were very relieved to get him back and made a very generous donation to the team.
We have used some of this money to purchase a harness suitable for larger dogs and are looking into other items of equipment for animal rescues.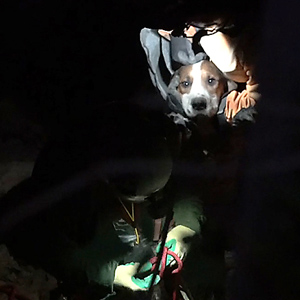 Mountain Rescue England & Wales AGM, 18th May 2019
A number of MCRO team members attended the MREW AGM in Lancashire, not just representing MCRO but wearing a number of British Cave Rescue Council 'hats'. Members of MREW teams present voted to change their charity to a CIO, this change will take place on the 31st December 2019.
MCRO AGM, 17th May 2019
Once again the AGM was held at Tweedale Fire Station. Deanne Wilkins stood down as team Secretary and Firas Fayed was appointed to the post. Other officers remain the same: Mike Clayton - Chairman, Graham Smith - Treasurer and Emma Porter - Training Officer.

Thanks to: Dea for her work as Secretary and Shropshire Fire and Rescue Service for the use of the Fire Station training room.
BCRC AGM, Buxton, 7th April 2019
MCRO reps attended the BCRC AGM at Buxton Fire Station on the 7th April. Emma Porter continues as BCRC Secretary, Mike Clayton as Equipment Officer and Kelvin Lake as Web Officer. A BIG Thank You to all MCRO volunteers working at a national cave rescue level.
At the BCRC Technical day Peter Barratt (Key Account Manager, Honeywell Analytics, Middlewich, Cheshire) and Joe Exon (Zone Manager, Honeywell Analytics, Poole, Dorset) generously donated portable gas detectors to all fifteen BCRC underground (cave and mine) rescue teams across the UK.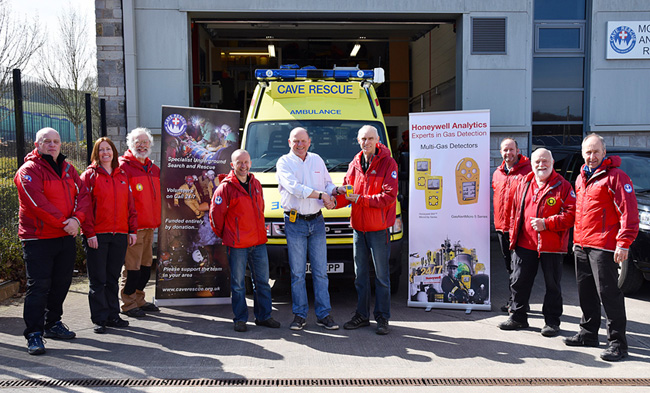 Presentation by Peter Barratt (Key Account Manager, Honeywell Analytics, Middlewich, Cheshire) of the Multi-Gas Detectors to the BCRC at Buxton Fire Station, Derbyshire, April 2019. L to R: Jon Whiteley (BCRC), Emma Porter (BCRC Secretary), Jim Davis (BCRC Training Co-ordinator), Mike Clayton (BCRC Equipment Officer), Peter Barratt (Honeywell Analytics), Peter Dell (Derbyshire CRO), Gary Mitchell (BCRC Assistant Chair), Bill Whitehouse (BCRC Vice Chair), Peter Dennis (BCRC Chair).
Each Cave Rescue Team has been issued with two sets of the Gas Alert MicroClip X3 [Four-Gas] detector. There are also some sets of Gas Alert Micro5 [Five-Gas] which will be distributed amongst selected teams, where Carbon Dioxide is a recorded hazard in the mines or caves of the area they cover.
MCRO has received 2 Gas Alert MicroClip X3s and are very grateful to Honeywell Analytics for this generous donation. One of our old meters had already failed and the other one has trouble with calibration, so these new detectors have come at an ideal time. They are also smaller and lighter than our old ones. See the BCRC website for more details. Thank you Honeywell
BCRC Technical Day 6th April - New Long Slix Stretcher
The SMWCRT team has been working with React to improve some design features of the 'slix' stretcher. This latest version incorporates new designs for C-Spine immobilisation and head support for casualties, with improved lifting/hauling eyelet locations. Attendees at the BCRC Technical day were able to get to grips with a prototype, try it out, provide feedback on the changes and make a few additional suggestions.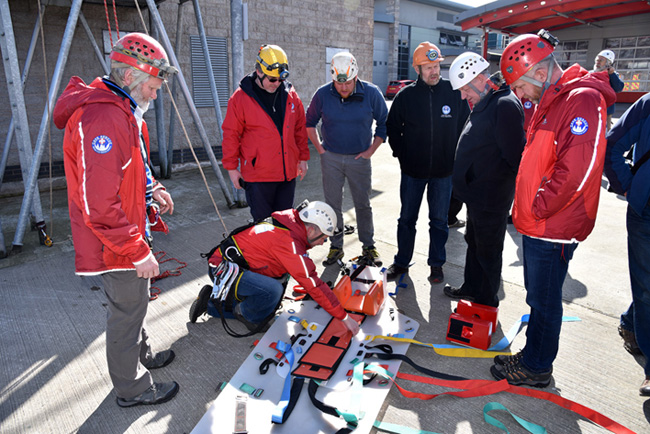 Representatives from various Cave Rescue teams evaluating the prototype React long Slix stretcher.
Find more pictures on the BCRC website.
Winter Training Day, 13th January 2019
On a mild January Sunday we met at Arco Professional Safety Services training centre, Eccleshall (formerly Total Access) for our winter training session.


Arco Professional Safety Services the new name for Total Access, Eccleshall, Staffordshire.
This year the morning session concentrated on familiarising team members with the new µHeyphones (through rock radios). After a brief session indoors we went outside for some hands on practice.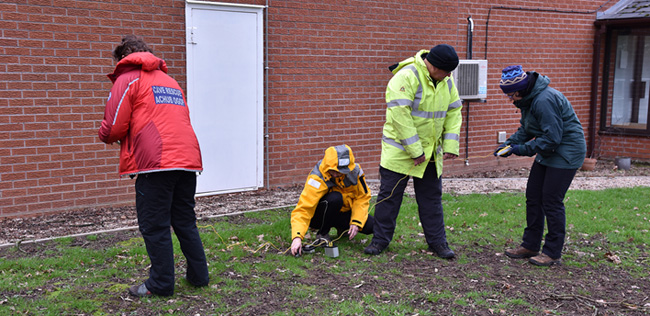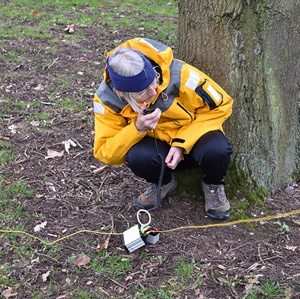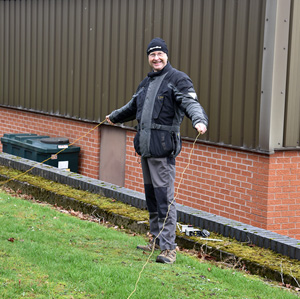 The afternoon session was in the training workshop and was a hauling exercise to move a "casualty" from the floor in one workshop, through a 'constriction' across a second workshop to land on a scaffold gantry (heavy weights were used in place of a casualty for safety purposes). It out our rope rigging skills to the test!