MCRO Diamond Jubilee Medal Presentation and Long Service Award
With Devon CRO using Kent's Cavern, Gloucestershire CRG heading to Clearwell Caverns, Midlands CRO decided to venture underground on the 25th July for their medal presentation too, but chose to arrive in style by underground electric canal boat into the Dudley Limestone Mines.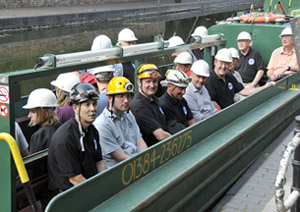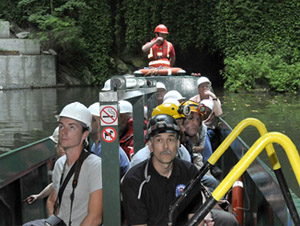 Access into this local tourist attraction was kindly organised by the volunteers of Dudley Canal Trust. Team members, family and friends of MCRO medal recipients were taken through to the huge Singing Cavern by canal boat where Paul Taylor, Chairman of Gloucestershire CRG, gave a speech and presented the Queen's Diamond Jubilee medals.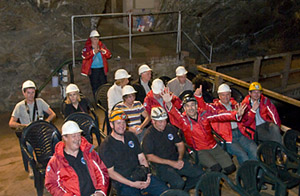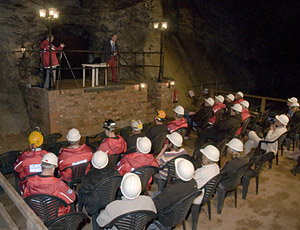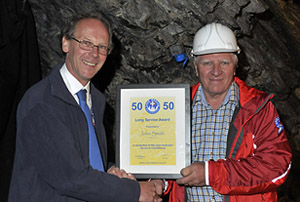 A special 50 years long service certificate, provided by the British Cave Rescue Council, was presented to John Smith, one of the founders of MCRO and Dudley Caving Club, as recognition of his dedication to cave rescue and caving. John has played a pivotal role in local underground exploration and rescue and many team members at the presentation were there because of John's drive, enthusiasm and time he has spent in nurturing new members.
The Singing Cavern itself was a very apt location in which to present John's award, as nearby is a now-filled in shaft which in the 1960's saw the tragic death of a young lad who fell into the shaft. John said a few words about how one simple factor of finding the boy's watch at the bottom of the shaft had a paramount effect on the rest of his life and had they not found it the whole story could have been so much different. Although John is now standing down from the underground side of rescue, he still intends to remain an active team member and supporter of MCRO.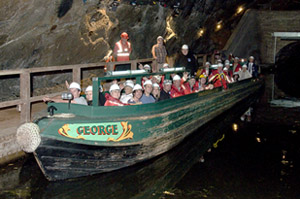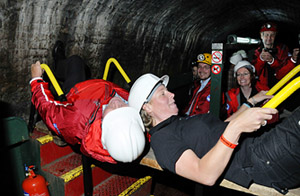 As the party left Singing Cavern, aboard the DCT's electric trip boat "George", team members took the opportunity to have a go at 'legging' - pushing the boat along by walking along the tunnel walls.
Thanks
We would like to thank Vic Smallshire (DCT Chair) and the volunteers from the Dudley Canal Trust for taking us underground and making the evening so enjoyable.
Emma Porter (MCRO Warden)