Four MCRO members went to Tunisia to help train Tunisian cave rescuers, 3rd-5th May 2013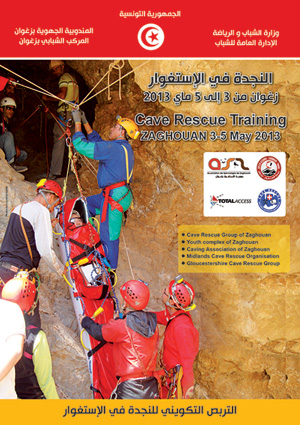 Between the 3rd & 5th of May 2013, four MCRO team members, Bartek Biela, Paulina Biela, Mike Clayton and Emma Porter were part of a 6-person British Cave Rescue Council (BCRC) team who travelled to Tunisia to deliver a cave rescue course to a fledgling cave rescue team in Tunisia – the first cave rescue organisation in the country.
Mike Clayton and Emma Porter had been instrumental in assisting in the start-up of the Tunisian organisation since first visiting Tunisia in 2009 during a caving and overland expedition across North Africa and the Middle East. Mike and Emma returned to Tunisia to continue the exploration of the caves with Bartek and Paulina during 2011 and then organised for two Tunisian cavers to visit the UK in 2012 for cave rescue training.
The intensive training course, delivered in May to over 30 persons, involved one day in the classroom covering a wide range of subjects, such as incident management and underground communications equipment; one day of practical workshops, such as communications, casualty care, stretching packaging and rigging ropes for a rescue; with the final day culminating in a full scale rescue scenario in a disused mine, putting all skills successfully into use. After the training course, the British team then had time to relax, and enjoy the delights of the Sahara by camel and quad bike before going back underground to explore a few kilometres of newly discovered passages in the longest cave in Tunisia.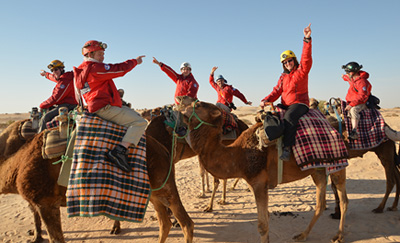 A keen sense of direction when locating caves in the desert is essential.
They're over there . . . !
All cave rescue teams in the UK are run by volunteers, and funded by donations. The team funded the trip to Tunisia and training at their own cost, and gave their time free of charge. It is hoped that some of the Tunisian team will travel to England in 2014, and a return visit to Tunisia is planned for 2015 to continue training.