Rescue Practice wearing PPE
Halloween is an ideal time for wearing masks, so it was appropriate that we held our PPE Rescue practice at Snailbeach on 31st. October. Eighteen team members attended, undertaking a mix of activities. To maintain social distancing the group was divided into 2 "bubbles", with couples or those in personal support bubbles kept together.
All participants were asked to wear face masks and PPE. Safety glasses or goggles were issued according to each team members preferences. Radios were used as part of the exercise, with people being assigned a specific radio for their exclusive use during the day. Other than the radios used at control all other radios were used inside Aquapacs to allow for easy cleaning at the end of the day.
Two main activities had been organised which ran concurrently with the bubbles
swapping over (after a lunch break) to ensure everyone had a chance to take
part.
Underground
The underground activity took place in Day/Landing level with the Shropshire Fire Service 'dummy' taking the place of the casualty - suitably clad in a PVC oversuit to keep it clean(ish!). The scenario was that a casualty had been located underground and needed help. Upon arrival at the scene a card on the casualty gave the rescuers a clue as to injuries, which had to be treated before a stretcher evacuation down the 100m long level. Emma Porter advised the group on the First Aid treatment for this exercise.
The underground exercise gave team members a chance to experience the reality of wearing masks and the problems that they produce. It showed that glasses or goggles with foam padding don't tend to fog up as much as safety glasses.
One other problem is that you get very hot when wearing a mask. It is one thing getting hot in a level, but wearing one for SRT might be very difficult or even dangerous.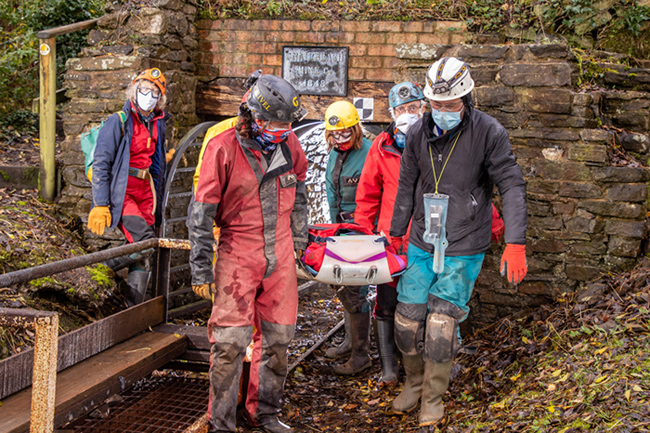 The stretcher team bringing the casualty out of Day/Landing level. (Picture: Bartek Biela)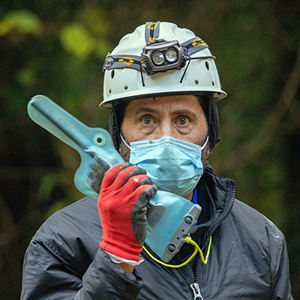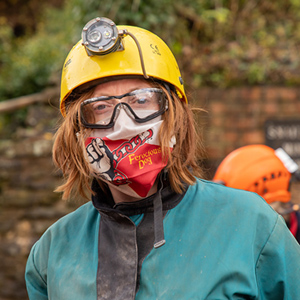 Radios were kept in Aquapacs to make it easier to disinfect, while team members used masks and goggles when underground. (Pictures: Bartek Biela)
Surface Exercise
The surface activity was a steep ground hauling exercise in the woods on Lords Hill. Supervised by team Chair Mike Clayton, a haulage system had to be rigged to bring a person up a very steep slope. It gave team members chance to use the new Petzl Rescucender as part of a haulage rig.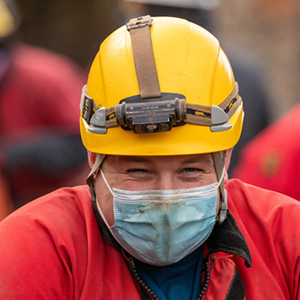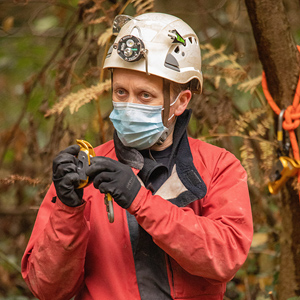 Introducing the Petzl Rescucender. (Pictures: Bartek Biela)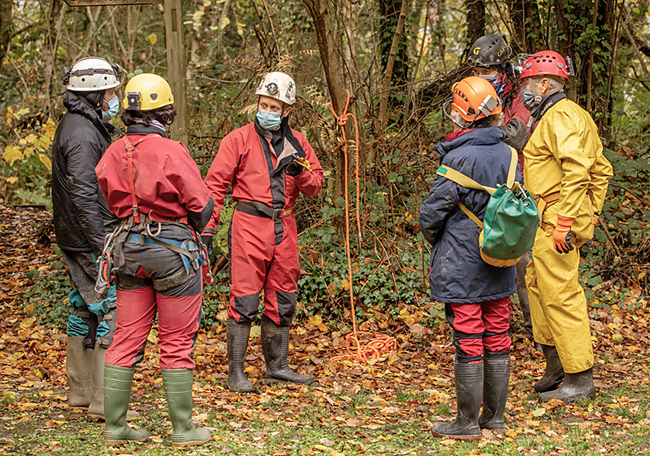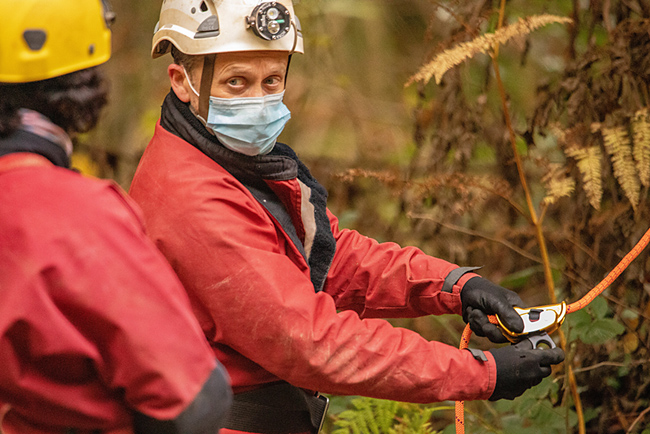 Mike Clayton briefing the surface haulage team on the Petzl Rescucender. (Pictures: Bartek Biela)
The day was rounded off with an exercise devised by Graham Smith using the mobile phone app "what3words". A number of locations around the Snailbeach mine site had been identified and team members were given sheets with a list of "what3words" locations. They then had to use their mobiles to navigate to, and identify the locations.
While the exercise was a success and it is easy to add the app to your mobile, it was felt that grid references or latitude/longitude was more accurate.
Thank You!
Thanks to Shropshire Mines Trust for allowing us to make use of the site.