A Game of Two Halves . . .
This year our annual Shropshire rescue practice was a joint surface practice with Shropshire Fire and Rescue Service.
First Half
For the first session we met at The Bog car park on the Stiperstones, where SFRS lined up several appliances from various local stations (Minsterley, Shrewsbury, Church Stretton & Wellington).
This enabled us to view the various items of kit on each of the appliances, including the SFRS crag rescue kit, their Command vehicle and Pinzgauer 6x6.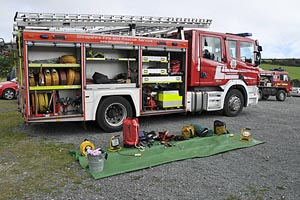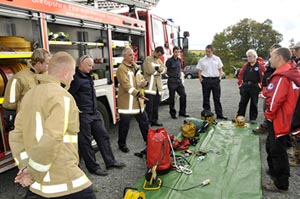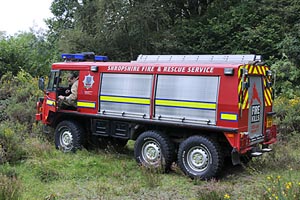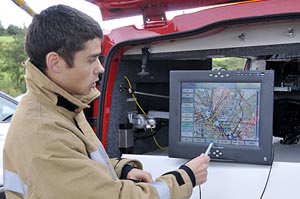 Second Half
For the second part of the day we re-located to a local quarry to practice a simple crag rescue and stretcher carry.
For this exercise our casualty was a climber who had fallen "some distance" and become 'crag-fast' with possible injuries. A team was deployed to the top of the quarry with the aim of rigging it so a rescuer could be lowered down to the casualty, put him in a protective triangular harness, then both could be lowered to the waiting stretcher team below.
To help with control and communications training the incident controllers were situated at the quarry entrance, out of site of the quarry face. Communications being by means of VHF radios to designated Comms operators with each rescue party.
Two ropes (one blue, one red for clarity) were rigged from the quarry top. Each rope was capable of being used for lowering or hauling.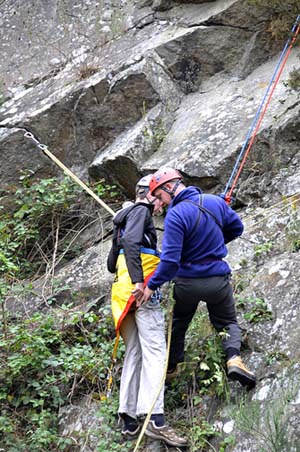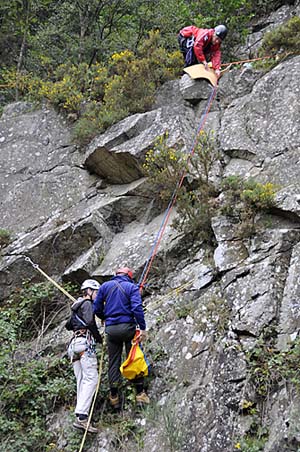 Note: The live casualty was safely attached to the quarry face throughout the exercise.