Burrington Combe Rescue Practice, Saturday 19th March 2016
This exercise was planned as an opportunity for a variety of Cave Rescue Teams to combine resources in support of the Mendip Cave Rescue who for the purposes of the exercise had another incident going on and required additional assistance to deal with this incident.
MCR provided guides to take people to the various surface and underground locations but then it was over to the visiting teams to undertake the searching with guidance from the MCR.
Visiting teams were also given the task of running Surface Control based upon the scenarios and descriptions provided by MCR. Control ended up being run by representatives from MCRO, GCRG and South & Mid Wales Cave rescue teams, utilising Mendips and large inflatable shelter and radios.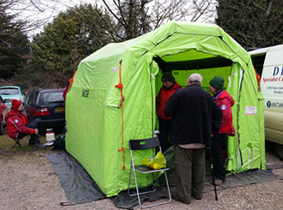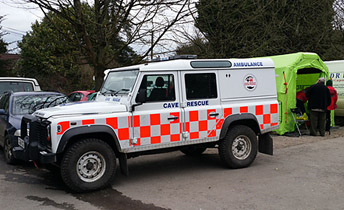 Above: The MCR inflatable shelter used for control and South & Mid Wales CRT landrover.
The exercise area was within the two Cattle Grids at either end of Burrington Combe and involved both surface and underground searches in a large number of the caves in the area.
South & Mid Wales CRT, Gloucestershire CRG and Mendip CR brought all their newly acquired Cave Link 'radios' - 15 in all. They worked very well, with messages successfully being sent from the sets at the entrance of each cave to sets underground. I fact they were working so well, that messages were also able to be passed from underground in one cave to another set underground in a different cave or even to the entrance of that cave!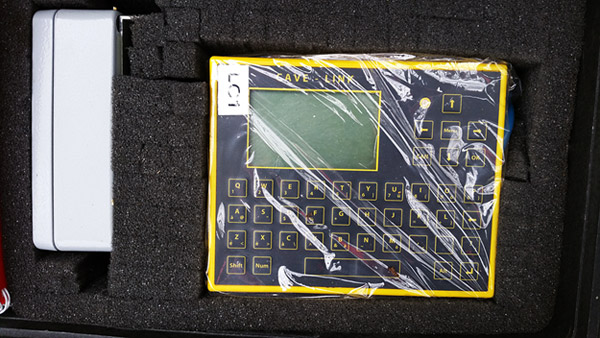 Above: Cave Link 'radio' LC1 belonging to South & Mid Wales CRT.
All in all an interesting exercise, which allowed a number of teams to work together and practice inter-team operability.