How many teams can you fit in one hole?
What most people don't realise is that there are literally thousands of holes in the ground in the area that we cover and as one of the smaller cave rescue teams in Britain, in the event of a major rescue, MCRO would be calling in many of the neighbouring cave rescue teams to provide additional rescuers, support and equipment. Whilst we already work very closely with Gloucestershire CRG (GCRG), this weekend saw representatives from a staggering eight cave rescue teams based in England and Wales training together. Of the 45 representatives, team members represented MCRO, GCRG, Derbyshire CRO, Cave Rescue Organisation, Mendip CRO, South East CRO, North Wales CRO and South and Mid Wales CRT. This was to be a real triumph of multi teams working hand in hand and just to add the final blend of complexity, there were two members of the Hungarian Cave Rescue Service along with two Poles and one Lebanese caver (all now members of home teams) thrown in for good measure! One thing was for sure, that with this diversity and the Shropshire and Black Country dialects, communication had to be good!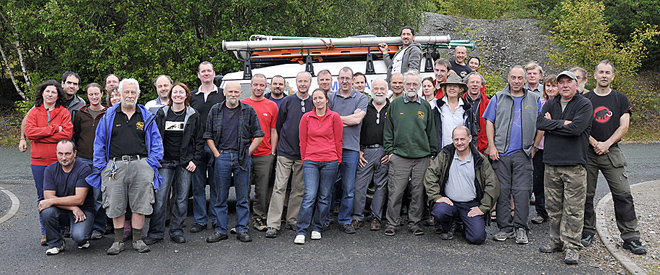 The evening of Friday 3rd September 2011 saw a collection of cave rescuers from far and wide descending upon the village of Pennerley near Minsterley in the Shropshire Hills for a weekend of filth, mud, toil and underground talk! The weekend's training event was being hosted by the MCRO, incorporating an underground training exercise on the Saturday followed by a series of surface talks and demonstrations on the Sunday.
Saturday's exercise was to focus on communication and pitch rigging to simulate the extraction of a casualty from the 40 yard level in the nearby abandoned Snailbeach Lead Mine in the village of Snailbeach. Snailbeach was the biggest lead mine in Shropshire and is said to have achieved the greatest volume of lead per acre of any mine in Europe. Underground mining finally halted in 1955 but its long history can be traced back to Roman times and the surface buildings are without doubt some of the best in the country. The mine was chiefly worked for lead ore but quantities of baryte, zinc, fluorspar, silver, calcite and zinc were also won. It achieved a depth of over 500 metres (552 yards) but today it is now possible to descend only as far as the 112 yard level without diving due to flooding of the lower workings.
For this exercise our casualty was hidden on the 40 yard level (measured from the collar of one of the old haulage shafts) and to reach this spot involved the descent of effectively five pitches (3 vertical and 2 slopes at approximately 50 degrees) which in total was a descent and haul of approximately 150 metres. The discrepancy between the yards/metres is that the 40 yard level was so named in relation to its depth from one of the old principal haulage shafts. The current accessible level is at a much higher altitude on the hillside and is thus above the old shaft collar (if that makes sense)!
Teams were quickly formed on the Saturday morning by the two surface controllers and conveyed from Snailbeach Village Hall (the control base) to the mine entrance by the GCRG Land Rover, one team at a time with a further surface controller at the mine entrance to log everyone in, and most importantly, out.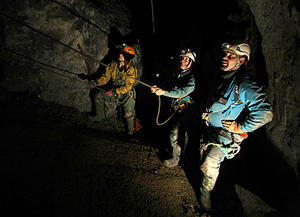 The teams were tasked with specific roles including pitch rigging, communications, stretcher carrying. Obviously in a cave/mine environment everything on a rescue has to work backwards. The first team in was to concentrate on rigging the fifth pitch which was known to be the last one prior to the casualty. On their heels were the stretcher and first aid party followed by teams to rig each pitch in reverse order ie 4th, 3rd and so on. That way as the casualty starts the journey up and out each pitch was to be rigged and ready with a haul party at the head of each pitch.
Communications to the control base from the entrance were handled via VHF radios. Underground communications were to utilise a combination of both the HeyPhone, to allow contact with the surface, and PMR radios between the various teams to allow communication along the mine levels. Due to the nature of ground disturbance with voids, back filled stopes etc past experience had taught us that the HeyPhone may prove problematic at this mine but in fact it worked exceedingly well from the hillside directly above the mine to the top of the first pitch.
For this exercise we had deliberately chosen not to use a live casualty due to instability in one area and as previously stated communications and rigging were the chief aims of the exercise. Instead our casualty consisted of two tackle bags filled with approx 70kgs of what every mine contains...rocks! Our casualty was "Mickey" and was aptly named as he had been furnished with a nice Mickey Mouse face - at least we knew which end was which!
Once reached by the stretcher party, the casualty was packaged into a REACT stretcher taking care to ensure none of his insides were likely to fall out! Mickey then began the arduous journey to the surface.
For each pitch the surface control had deployed the teams with two standardised rigging kits which basically consist of 50metres of colour-coded static rope along with all the necessary kit to set up a "z" rig haul system using Petzl Rigs as the belay device. MCRO has recently switched to these having previously used Petzl Stops and Grigris and so far, after initial skepticism about the suitability of the device in underground situations, we have been very impressed. Its similarity to a Petzl Grigri means even those not too familiar with the device quickly pick it up safely.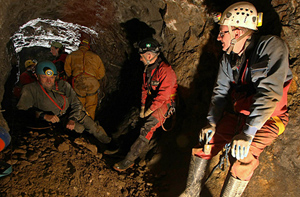 Our standard approach is to have three ropes on each pitch, one rigged for the ascent/descent of each of the party/rescuers/stretcher barrow boy. Two ropes are then rigged for the casualty to be hauled up, be this in a full body harness or stretcher. One blue, one red for clarity and each can be rigged with a "z" rig haul system so that haul/ backup function can be switched between the two.
When Mickey started moving outwards we began to appreciate what a realistic weight he was!
On the two sloping pitches our overseas colleagues instigated hauling using a counterbalance system, whereby as the stretcher made its way up the slope helped by the barrow boy, a member of the haul team came back down the slope acting as a counter weight. This is not a technique that MCRO adopts currently as standard practice. Obviously it requires total confidence in belay placements due to the increased loadings and in the tight confines of a cave this is not always going to be practicable. But on this occasion where the two sloping pitches led directly to the base of the next vertical pitch it was a good choice of technique. Bolt placements were limited at the top of the slopes and it was impractical to position a haul team on the slopes and achieve a haul.
Less than four hours after the start of the casualty moving he reached the surface in what was a very commendable time. In reality, with a live casualty, this time would increase as casualty care dictated and on this exercise, if anything, we were caught out by the speed with which the stretcher made its way to surface. We had rigged a second series of pitches down to the casualty via an alternative route with the intention of allowing rescuers, once they had finished hauling on the stretcher, to make their way back up thus leap frogging the stretcher and hence making them available to assist with hauling higher up. But as it turned out, the upper haul teams on the first and second pitches were well set up and the casualty beat the leap froggers out!
Summing up the practice we were very impressed with how well the members of all eight teams integrated. This is essential in cave rescue, as in the event of a long or complex rescue stretching over maybe 24 hours, assistance would have to be sought from other teams and this is the reason that MCRO has tried to mirror equipment and techniques with that of GCRG. The hauling worked extremely well and as a team we are going to review the counterbalance method which is favoured by many of our colleagues overseas. Various gas detectors were also tested on the entrance level to assist with the decision-making process of BCRC in selecting a preferred detector to be funded by the MREW grant. Communications worked up to a point; the HeyPhone was a success where we had expected failure and the PMR radios did not function as well as we had hoped. This we feel was in part due to the fact that with a lessened focus on casualty care there was less need to regularly report on the state of a bag of rocks. Must try harder next time!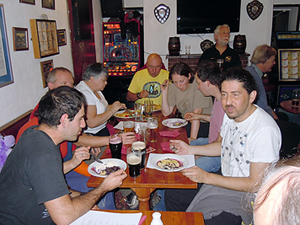 The only thing left to do was look despondently at the pile of mud that contained the stretcher and ten rigging kits. Fortunately the kits were split between MCRO and GCRG so at least the 500metres plus of rope was not all headed for one set of willing cleaning hands! With our colleague safely back from hospital, the only thing left to do was discuss events over a pint or two and look forward to the talks tomorrow!
After a very pleasant evening in the Stiperstones Inn, Sunday saw a varied wealth of presentations.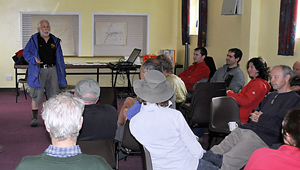 After an initial introduction by Steve Holding (MCRO Chairman) and a brief photographic presentation of recent MCRO events, we were put on the straight and narrow with an entertaining presentation on "An introduction to law for cave rescuers" by Anthony Rich (BCRC & MREW Legal Adviser), followed by an informative update of BCRC, MREW and UKSAR by Bill Whitehouse (BCRC Chairman).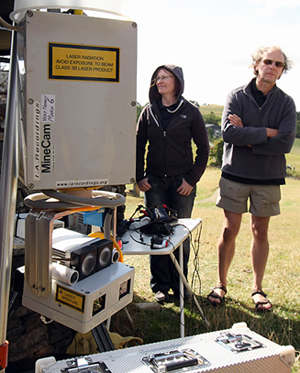 Then it was time for a leg stretch to a nearby mine shaft to see the amazing MineCam in action, a remote controlled video camera for shaft exploration with demonstrations kindly provided by Peter Eggleston and Kelvin Lake. In the afternoon, Paul Taylor (GCRG Chairman) demonstrated SARCALL and its benefits which is increasing in prevalence within cave rescue teams, and is currently being considered by MCRO. Tibor Dianovszki took us on a whirlwind tour of the history of the Hungarian Cave Rescue Service with "Rescue beyond borders … the Hungarian Experience" and discussed the increasing cross-border co-operation between countries in mainland Europe following some lengthy rescues, one of which lasted five days. The afternoon ended with a presentation on the "Use of Gas Detectors", which was of particular relevance as BCRC is currently working on supplying all teams with two detectors, with support from MREW.
This was the second such multi-team weekend training event that MCRO has hosted and has proved to be an excellent opportunity to work together, share ideas and knowledge between local cave rescue teams. We would like to express our thanks to all those who attended and participated in the weekend, all of whom contributed to its success. In particular, we would like to thank the contributors to the Sunday programme and Bill Whitehouse (BCRC Chairman), Pete Allwright (BCRC Secretary), Anthony Rich (BCRC Legal Adviser) and Paul Taylor (GCRG Chairman) for their continued support and the residents of Snailbeach.
Emma Porter (MCRO Warden) and Graham Smith (MCRO Warden)