Training Day, Sunday 8th January 2012
Thirty-five cave rescuers, cavers and mine explorers, descended upon Total Access (UK) Limited's classrooms and training centre facilities once again on Sunday 8th January 2012 for a day of presentations, classroom and practical training.
SARCALL
After an introduction by Steve Holding (MCRO Chairman) and Mike Clayton (MCRO Secretary), Paul Taylor (GCRG Chairman) started the training by providing an update on the ongoing development and expansion of the SARCALL integrated platform, which both MCRO and GCRG are embracing.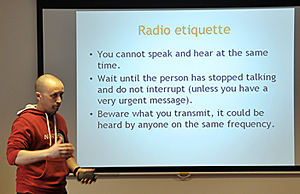 Sarcall is a system that has been developed to assist with the call out of Mountain and Cave Rescue Teams across the UK and Ireland, utilising email and SMS messaging and is accessible by both teams and the "Calling Authorities" (usually the Police). The system provides an audit trail of what information was received from the original 999 caller and transfers this information, accurately and in a timely and cost effective way, to the wardens and then to team members, eliminating the risk of confusing messages.
Practicals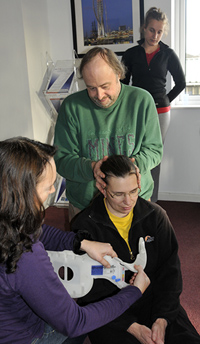 The group was then split into two. Mike Clayton and John Morgan ran a practical hands-on session on the use of VHF Radios, whilst GCRG and MCRO Advanced First Aiders ran stretcher packaging sessions.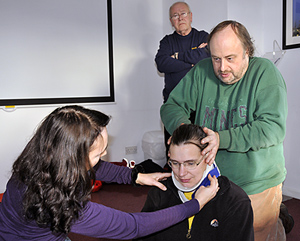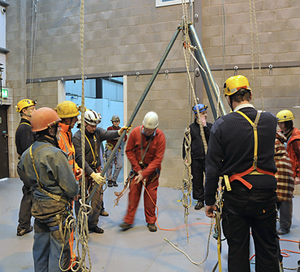 The afternoon was a hive of activity and discussion in the training centre, with demonstrations of how to safely raise, secure and rig a tripod to prevent it collapsing when hauling.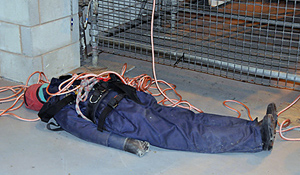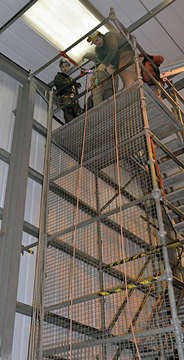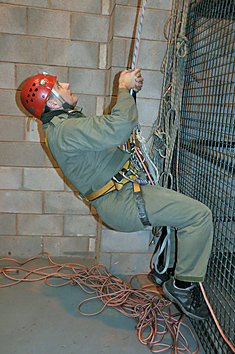 Steve Tomalin (GCRG) led a practical on various counterbalance methods, whilst others focused on the use of z-rigs, both of which are used for hauling casualties up pitches.
Thank You
To Total Access for allowing us to use their fantastic venue, to all those that assisted with the training and to everyone that supported and attended the event. In particular, it was good to see new faces and ones we have not seen for some time, we look forward to seeing you underground.
Emma Porter (MCRO Warden & Training Co-ordinator)