Explorer Suffers Fall in Snailbeach
During our multi-team training event held over the weekend of 3 – 5 September 2011, little did we know that our first call-out after that practice would be to the same underground location at Snailbeach Lead Mine in Shropshire!
The accident happened on the evening of Wednesday 16 October 2011, when one of the group who was ascending the mine suffered an epileptic fit on a short fixed ladder and fell complaining of neck, back and pelvic pain and suffering a number of further fits.
Two of the group exited the mine and raised the alarm, initiating a full MCRO call-out at 9.20pm. In view of the location of the incident assistance was requested from Gloucester Cave Rescue Group (GCRG), with seventeen of their members making the long journey up to Shropshire.
Of all the places to end up, when the first group reached the caver, she was positioned in the same awkward location as the casualty in the rescue practice had been!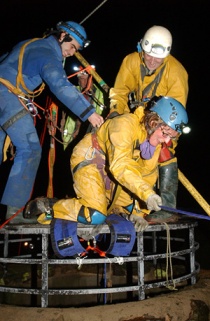 However, this time due to the position and condition of the casualty, it was decided to extract her via Chapel shaft. It was felt the time it would take (over 4 hours, based on the September practice) to move the stretcher up the pitches to adit level was too long. Although to cover all eventualities both the pitches and Chapel shaft were prepared for use. However, once she was comfortable and stable in the stretcher, the decision was made to go for the quicker shaft haul and she was carried along the 40-yard level to Chapel Shaft.
Chapel Shaft is a 165m deep shaft, however the 40-yard level intercepts it at 90m from the surface.  It was very fortunate that scaffolding erected to form a landing platform for the National Association of Mining History Organisation (NAMHO) Conference held at the end of July 2011 was still in place.

Many of the team members worked in the same positions as they had been on the training event and six hours after the call-out had been initiated, at 3:30am Thursday morning, the caver was safely out of Chapel Shaft and on her way to hospital.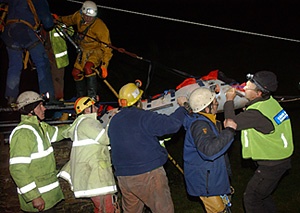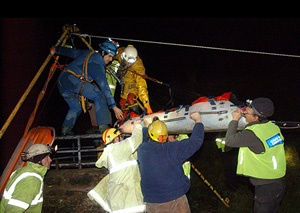 A total of 51 cavers from MCRO and Gloucestershire Cave Rescue Group (GCRG) attended the incident, the multi-team training really paid off.  If only we could always forward plan so well when we organise training events!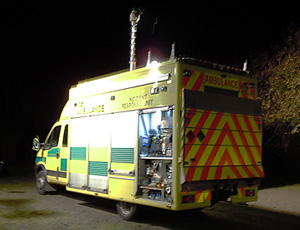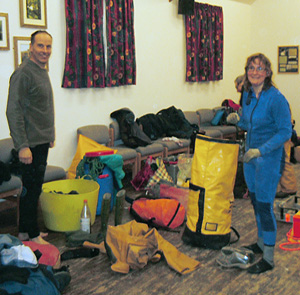 We even took delivery of our new VHF radios that night and were able to put them to immediate use!
A big THANK YOU to everyone who turned out on the night, to the Snailbeach Village Hall committee for the use of the Village Hall and especially "Nick the Jester" for stepping in and making teas and coffees.
Emma Porter (MCRO Warden)