Wrekin Crag Practice, 10th October 2015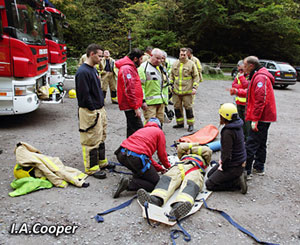 In October we joined the Shropshire Fire and Rescue Service at Ercall Quarry - at the foot of the Wrekin by the site of the former Forest Glen Tea Rooms for a Crag Rescue exercise.
More pictures and details on the report page >>
Larkin Frame Training, 17th July 2015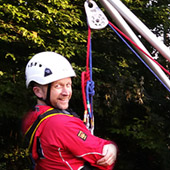 The Larkin frame is a new addition to MCRO's equipment and has been provided by the government funding through Mountain Rescue England & Wales. The Larkin frame will be extremely useful at the top of pitches for deviating ropes over edges or at the side of quarry edges.
Some team members had been able to practice with the frame at the BCRC Conference, but this was the first chance for members to build and rig the frame on their own! Read a bit more >>
BCRC Conference, 12th-14th June 2015
The 2015 Conference was jointly hosted by MCRO and GCRG in the Forest of Dean. The Saturday saw the 150+ delegates taking part in a number of workshops and practical sessions, followed by an excellent underground evening party in Clearwell Caves. On the Sunday a rescue practice and training session was held in Old Ham mine - this involved rescue team members from around the country plus some from overseas teams!
South & Mid Wales Rescue Practice, 16th May 2015
SMWCRT held their biennial Mid-Wales 'mine' rescue practice at Cwmystwyth mine, Ceredigion in May. This event is a multi-team affair, with representatives from both North Wales Cave Rescue and MCRO joining in the exercise. Read a more detailed report >>
BCRC Training Day, Buxton, 25th-26th April 2015
Several team members attended the British Cave Rescue Council pre-AGM Technical day at Buxton Fire Station and the BCRC AGM the following day. Delegates to the Technical day were brought up to date on Legal issues, SARCALL, development of the new Nicola radios, and the BCRC website amongst other things.
Team Training Day, 11th January 2015
Team members from MCRO and GCRG joined together for the annual training day at Total Access (UK) Limited's training centre, Eccleshall facilities. Members were divided into groups of 4 lead by team wardens and co-ordinators, then rotated round 8 different training exercises/workshops.
The workshops covered topics ranging from assorted rigging techniques, to communications and first aid, plus a 'rescue' quiz to test people!
By working in small groups all team members were able to familiarise themselves with the various techniques and equipment used in the workshops and the day proved very successful.
Image: The Little Dragon - a device designed to re-warm a cold casualty by allowing them to breath warm air. The subject of one of the workshops.