MCRO Rescue Practice, Shropshire, 19th June 2016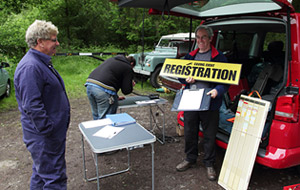 The aim of the practice was to get team members to perform roles that they normally don't do (with assistance and advice from the more experienced members). Despite the nervousness of those who were put on the spot, the exercise went very well and the problems that were encountered were successfully overcome.
Communications is often a stumbling block in such rescue with Control being remote from the underground entrance, but the combination of the team VHF radios and Heyphones, coupled with some good radio operators allowed for very effective comms between Control and underground. The new improved aerials built by the Comms officer also proved very effective.
GCRG Rescue Practice, Forest of Dean, 5th June 2016
Several team members travelled to Gloucestershire to join our GCRG colleagues for a rescue practice in the Forest of Dean.
Larkin Frame Training, 13th May 2016
Another training session was arranged to cover the assembly and use of the Larkin frame, which has been provided by the government funding through Mountain Rescue England & Wales.
Rescue warden Graham Smith had recently attended a training weekend organised by the British Cave Rescue Council and run by Lyon Equipment, so was keen to pass on a number of useful pointers and safety items which had been covered during the course to team members who came to this evening session.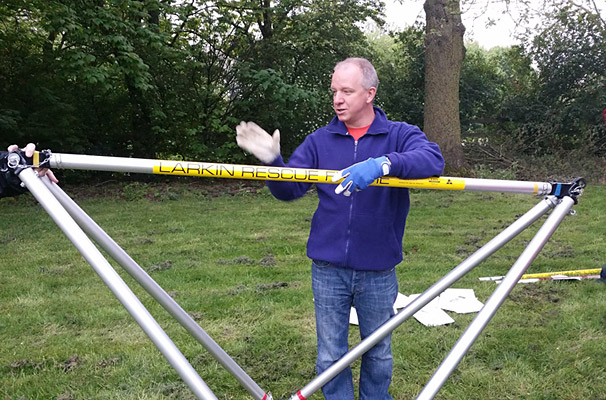 BCRC Training Day & AGM Weekend, Buxton, 9th-10th April 2016
Several team members attended the British Cave Rescue Council pre-AGM Technical day at Buxton Fire Station and the BCRC AGM the following day. Delegates to the Technical day were brought up to date a variety of topics including, SARCALL and development of the new Nicola radios.
Multi-team Rescue Practice, Burrington Combe, Mendip, 19th March 2016
This exercise was planned as an opportunity for a variety of Cave Rescue Teams to combine resources in support of the Mendip Cave Rescue who for the purposes of the exercise had another incident going on and require additional assistance to undertake this incident. More details >>
Evening Training - GPS, 11th March 2016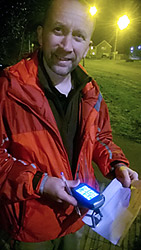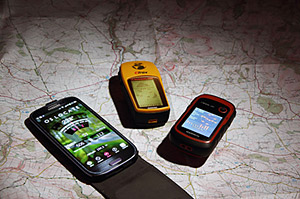 Our Second evening training session of 2016 was an introduction to GPS and navigation techniques lead by Ian Cooper.
Team members were asked to bring along their GPS devices and Smartphones, then following a brief introduction to the concepts of GPS and satellite technology, team members were sent on a navigation exercise in the surrounding area in which they had to locate certain features and answer questions about items are various locations.
It was a well planned and very enjoyable exercise. Team members who attended the session expressed an interest having another similar session - perhaps out in the countryside with an aim of navigating between underground features.
Evening Training - Slix 100 Rescue Stretcher 22nd January, 2106
During 2016 we decided to make use of the offer from Shropshire Fire and Rescue Service to use their Tweedale Community room to hold a series of evening training sessions. The first session wes aimed at introducing the team to the new Slix 100 rescue stretcher and comparing it with our older stretchers and Casualty bags.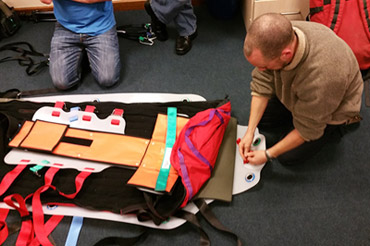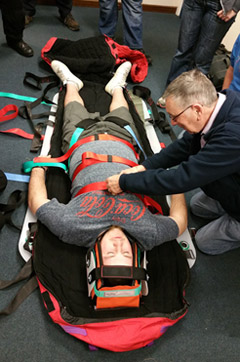 Team Training Day & Presentation, 10th January 2016
We kicked off the New Year with our annual training day at Total Access (UK) Limited's excellent training centre, Eccleshall. The workshops covered a variety of techniques from rigging techniques, to communications, equipment familiarisation and a 'first aid' quiz.
Before the main training got underway, colleagues from GCRG presented us with a large cheque, representing MCRO's share of the proceeds from the auction of equipment belonging to our friend and colleague the late Steve Tomalin. Read the report >>