Emergency Services Show, NEC, 24th to 25th September 2014

The British Cave Rescue Council (BCRC) together with other voluntary rescue organisations, had a stand in the UK SAR section of the Emergency Services Show (it is the the UK's leading annual event for all emergency responders and personnel). Several MCRO team members attended the show and helped out on the BCRC stand.
Interested in visiting the 2015 show? If you are a member of a Cave or Mountain Rescue team or the Emergency Services you can attend for FREE - provided you register in advance. But, don't forget to visit the BCRC stand!!
You can find more about the show, who will be there and how to register on their website: www.emergencyuk.com
Search & Rescue Training Day, Shropshire, 20th September 2014
Team members took part in a search and rescue exercise on the Stiperstones, Shropshire. Practicing elements of land search across the Open Access area of the hills, coupled with investigations of lesser known mine shafts and adits in the area.
Land Search Call Out, 25th June 2014
The MCRO Land Search team were called to assist SARA (Severn Area Rescue Association) in a missing person search. The person was found while the team was enroute, so we were stood down.
BCRC Training Day, Buxton, 12th April 2014
Team members were able to attend the British Cave Rescue Council Technical Training day at Buxton Fire Station. Where representatives of cave rescue teams from around the country demonstrated new techniques and swapped ideas. The event was followed on Sunday 13th by the BCRC AGM, where 2 MCRO members (Emma Porter and Mike Clayton) joined the BCRC Committee - well done Mike and Emma!
SARA Land Search Training, 22nd March 2014
Members of MCRO's Land Search team joined the Severn Area Rescue Association's land search training exercise at Tewkesbury to brush up on their skills.
GCRG Rescue Practice, Forest of Dean, 2nd March 2014
Several members of MCRO attended Gloucester Cave Rescue Group's training exercise in the Forest of Dean.
Assistance to Shropshire Fire & Rescue Service, 29th January 2014
Members of MCRO were able to provide advice and assistance to SFRS who had been called to an incident a Coalport where a dog had fallen down a 'well'. The well was actually an old mine shaft.
Land Search Call Out, 20th January 2014
The MCRO Land Search team were called to assist SARA (Severn Area Rescue Association) in searching for a missing person in the Lydbrook area of the Forest of Dean.
MCRO Training Day, 5th January 2014
Over Thirty team members from MCRO and GCRG attended the annual training day at Total Access (UK) Limited's classrooms and training centre facilities on Sunday 5th January 2014 for a series of presentations and practical training.
This year team members were able to practice their communications skills using multiple 'France phones', a little tricky inside a building - but it worked!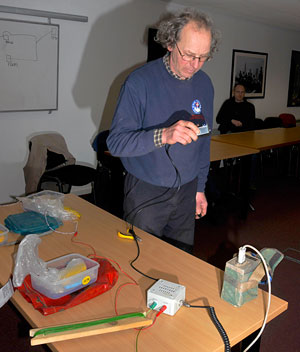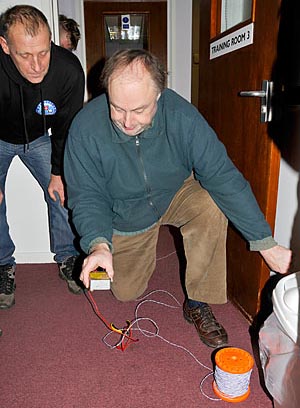 France phone session in the training rooms

In the afternoon several practical scenarios were available for team members. Rigging and hauling with a 'Luffing frame', plus rescuing an unconscious casulty from a pitch, then hauling them to safety.
Electronic T-Card System Developments
Development has continued on the electronic T-card system, CRIMS and a 60 day trial version (beta) of the software is available for download. Find out more about CRIMS >>