Snailbeach - Successful Rescue, 16th November 2011
A typical Wednesday night Snailbeach trip changed dramatically when one of the party (a visitor from Devon) suffered an epileptic fit as she reached the top of a short ladder on the slope up from the 40 yard level. Two of the group exited the mine and raised the alarm, initiating a full MCRO call-out at 9.20pm. More details on the Snailbeach Rescue page >>
Shropshire Caving & Mining Club 50th Anniversary Dinner
At the SCMC 50th £118 was raised by the assembled past and present members when they took part in a "sealed envelope" raffle. A big "thank you" to everyone and commiserations to those who found that their envelopes were empty!
Snailbeach 2011 Rescue Practice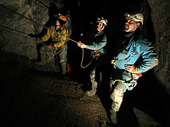 Over the weekend of 3rd to 5th September 2011, 45 Cave rescue representatives from 8 English and Welsh CRO's plus 2 from the Hungarian Cave Rescue Service met up at Snailbeach, Shropshire for a weekend of filth, mud, toil and underground talk!  The weekend's training event was being hosted by MCRO, incorporating an underground training exercise on the Saturday followed by an evening social and a series of surface talks and demonstrations on the Sunday.
Read the full report on the Snailbeach 2011 practice >>
NAMHO Conference, 29th-31st July 2011
MCRO was nominated to receive the proceeds from the raffle at this years NAMHO Conference, held near Shrewsbury. Team members were on standby in case of incidents on the underground trips, but in the end we only had to help out at the bar (a tough job, but someone had to do it). Thanks to the generosity of the conference delegates the raffle and other donations raised over £260.
Fund Raising Marathon Run, 2nd July 2011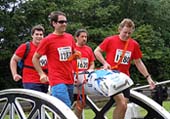 On the 2nd July 2011, a small group of team members took part in the Birmingham Black Country Half Marathon, running (jogging/walking) the 13.1 miles from Wolverhampton to Birmingham carrying the rescue stretcher to raise funds for MCRO.
Over £1,400 has been raised from this event! Enough to allow us to purchase surface radio sets, plus accessories.
A VERY big thank you to everyone who sponsored us, not to mention the back-up team and the runners themselves.
More details on the Fund Raising page and pictures in our Birmingham Black Country Half Marathon gallery >>
Shropshire Show, 14th-15th May 2011
We were offered the use of the BCA artificial cave by the Scouts, who had been using it on the Shropshire Show ground the week before, on the understanding that we returned it to Derbyshire. Six team members and supporters "looked after" the cave for the weekend, encouraging Show visitors, young and old, to try their hand at caving ... some got through ... some didn't ! A fun weekend, which raised over £100 for team funds.